Such matrices are often represented graphically as square mosaics of square tiles that are either light or dark... Here are special Hadamard matrices, known as Walsh matrices, whose orders are powers of 2 (1, 2, 4, 8, 16).





In the so-called normalized cases, one row and one column have a uniform color which is traditionally light (so that there are ½ n(n+1) light squares and ½ n(n-1) dark ones). The exact color-code can't be fixed (as the opposite of an Hadamard matrix is also Hadamard) but we usually assume that the dominant (light) color stands for the value +1. When its first column and its first row have a uniform value of +1, the matrix is said to be dephased (a jargon term discussed below, originally applied to complex Hadamard matrices c. 1970).
The above serves to illustrate a remark of Sylvester (1867) that an Hadamard matrix of order 2n may be obtained from a known Hadamard matrix H of order n, simply by juxtaposing four copies of H and negating one of those:
More generally, an Hadamard matrix of order mn may be constructed from an Hadamard matrix K of order m and an Hadamard matrix H of order n by substituting in K all occurrences of +1 by H and all occurences of -1 by -H (the above is the special case m = 2). In other words, the Kronecker product of two Hadamard matrices is also an Hadamard matrix...
Abstract Algebraic Definition (real or complex realm) :
Hadamard matrices of order n may be defined as square matrices of order n whose elements have unit length ( modulus ) and which verify the relation:
M M* = n In
In this, M* is the transpose of a real matrix M or, more generally, the transpose conjugate of a complex one. Matrices with complex elements of unit moduli which satisfy the above relation are called complex Hadamard matrices. They were introduced in 1970 by Richard J. Turyn (1930-?) as interesting generalizations of the more traditional (real) Hadamard matrices, which can be considered to be merely of a restricted subtype.
A (complex) Hadamard matrix is trivially obtained from another by using one or several of the following types of transformations:
Multiply a row or a column by an element of unit modulus (like -1).
Replace a row or a column by its (element-wise) conjugate.
Permutate rows or permutate columns.
Matrices so obtained from each other are said to be Hadamard-equivalent. A complex Hadamard matrix where all first-row and first-column elements are equal to 1 is said to be dephased. Any complex Hadamard matrix is equivalent to a dephased one (HINT: Use the first type of transformations.)
It's not difficult to prove that all complex Hadamard matrices of order 2 are Hadamard-equivalent to the aforementioned Walsh matrix of order 2.
Similarly, there's essentially only one complex Hadamard matrix of order 3. It involves a primitive cube root of 3, denoted w :



1
1
1



where w = w3 = ½ (-1 + i Ö3 )
1
w
w2
1
w2
w
That's an example of a so-called Butson-Hadamard matrix, namely a complex Hadamard matrix of order n whose elements are p-th roots of unity. Those were first discussed in 1961 by Alton T. Butson (1926-1997) before Turyn's general approach to complex Hadamard matrices (1970).
For any order n, one example of a Butson-Hadamard matrix is given by the Vandermonde matrix of all the n-th roots of unity (which is Hadamard-equivalent to their circulant matrix). Another example is provided, for any composite order, by extending to complex Hadamard matrices what we've already remarked about real ones, namely that the Kronecker product of two (complex) Hadamard matrices is a (complex) Hadamard matrix. In particular, if H is a complex Hadamard matrix of order m, a complex Hadamard matrix of order 3m is obtained from the following pattern:



H
H
H



where w = w3 = ½ (-1 + i Ö3 )
H
w H
w2 H
H
w2 H
w H
This can be applied repeatedly to obtain the following ternary equivalent of the aforementioned (binary) Walsh matrices, using a three-color code:




For any odd prime p, a complex Hadamard matrix whose elements are pth roots of unity must have an order which is a multiple of p. Conversely, it is conjectured that such matrices exist for any order which is a multiple of p.
The existence of ordinary (real) Hadamard matrices (as discussed next) can be construed to be the case p=2, for which a slightly different rule holds...
Existence of (Real) Hadamard Matrices of Order n :
Back to ordinary Hadamard matrices (whose elements are either -1 or +1).
The empty matrix (of order 0) is vacuously an Hadamard matrix. The order of any Hadamard matrix must be 1, 2, or a multiple of 4 (Hadamard, 1893). Conversely, the Hadamard-Paley conjecture (better known as the Hadamard Conjecture ) states that there are Hadamard matrices of all such orders...
In 1933, Raymond Paley used finite fields to construct Hadamard matrices of all orders of the form q+1 (resp. 2q+2) where q is the power of a prime congruent to 3 (resp. 1) modulo 4. Paley's Theorem states that Hadamard matrices can be constructed (using Paley's construction and the aforementioned construction of Sylvester) for all positive orders divisible by 4 except those in the following sequence (i.e., multiples of 4 not equal to a power of 2 multiplied by q+1, for some power q of an odd prime):
92, 116, 156, 172, 184, 188, 232, 236, 260, 268, 292, 324, 356, 372, 376, 404, 412, 428, 436, 452, 472, 476, 508, 520, 532, 536, 584, 596, 604, 612, 652, 668, 712, 716, 732, 756, 764, 772, 808, 836, 852, 856, 872, 876, 892, 904, 932, 940, 944, 952, 956, 964, 980, 988, 996, 1004, 1012, 1016, 1028, 1036, 1068, 1072, 1076, 1100, 1108, 1132, 1148, 1168, 1180, 1192, 1196, 1208, 1212, 1220, 1244, 1268, 1276, 1300, 1316, 1336, 1340, 1364, 1372, 1380, 1388, 1396, 1412, 1432, 1436, 1444, 1464, 1476, 1492, 1508, 1528, 1556, 1564, 1588, 1604, 1612, 1616, 1636, 1652, 1672, 1676, 1692, 1704, 1712, 1732, 1740, 1744, 1752, 1772, 1780, 1796, 1804, 1808, 1820, 1828, 1836, 1844, 1852, 1864, 1888, 1892, 1900, 1904, 1912, 1916, 1928, 1940, 1948, 1960, 1964, 1972, 1976, 1992, 2008, 2024, 2032, 2036, 2052, 2056, 2060, 2072, 2076, 2092, 2108, 2116, 2136, 2148, 2152, 2156, 2164, 2172, 2200, 2212, 2216, 2228, 2264, 2276, 2284, 2292, 2296, 2300 ... (A046116)
For many of those remaining orders, Hadamard matrices have been discovered by other methods. Here's a brief summary...
In 1962, Baumert, Golomb, and Hall found an Hadamard matrix of order 92, using the general approach introduced in 1944, by John Williamson (who so constructed an Hadamard matrix of order 172). A Williamson matrix of order 4m is an Hadamard matrix obtained as follows from 4 matrices of order m (with unit elements) A, B, C and D, provided 4 matching relations are satisfied:



A
B
C
D



AA* + BB* + CC* + DD* = 4 m Im
AB* - BA* = CD* - DC*
AC* - CA* = DB* - BD*
AD* - DA* = BC* - CB*
-B
A
D
-C
-C
-D
A
B
-D
C
-B
A
For example, we may build an Hadamard matrix of order 12 with 4 matrices of order 3, by letting one of them be the matrix U whose 9 elements are equal to +1 (the square of U is 3U) while the 3 others are equal to U-2I.
With A = U, the resulting Hadamard matrix of order 12 (which isn't normalized in the above sense) is shown graphically below, next to the Hadamard matrices of order 24 and 48 obtained from it with the aforementioned Sylvester construct:



It turns out that all (real) Hadamard matrices of order 12 are equivalent. In particular, the above order-12 Hadamard matrix is Hadamard-equivalent to the following, which is normalized (dephased) and symmetrical:

In 1985, K. Sawade found an Hadamard matrix of order 268.
In June 2004, Hadi Kharaghani and Behruz Tayfeh-Rezaie built the Hadamard matrix of order 428 shown below (1 pixel per matrix element).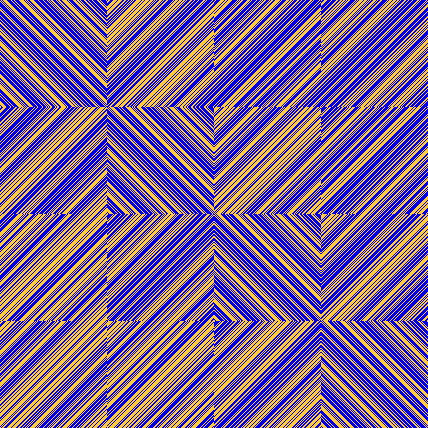 If we denote by M the symmetrical of any M with respect to its antidiagonal, the above matrix is based on 4 matrices A, B, C, D of order m = 107 put together in the following pattern, which gives an Hadamard matrix of order 4m if and only if all the 10 conditions listed are met. (Note that M N = N M .)



A
B
C
D



AA* + BB* + CC* + DD* = 4 m Im
B B* = B B*
C C* = C C*
D D* = D D*
-B
A
-D
C
-C
D
A
-B
-D
-C
B
A
A B* - B A* = D C* - C D*
A C* - C A* = B D* - D B*
A D* - D A* = B C* - C B*
A B* - B A* = D C* - C D*
A C* - C A* = B D* - D B*
A D* - D A* = C B* - B C*

Since June 2004, the order 668 has been the smallest multiple of 4 for which no Hadamard matrix is yet known (as of July 2014).
Generalized Hadamard Matrices by A. T. Butson (1961).
Recent advances in the construction of Hadamard matrices by Jennifer Seberry (1973).
Walsh-Hadamard transform | Hadamard Matrix : Wikipedia | MathWorld
Usage note : Both spellings "a Hadamard matrix" and "an Hadamard matrix" can be construed as correct: The former one applies to an anglicized pronounciation of "Hadamard" ("h" and "d" both pronounced) whereas the latter must be used with the original French pronounciation (initial "h" and final "d" both silent).