2015
International
Year of Light
and
Light-Based Technologies
---
Technical Aspects of Digital Cinematography
Sensor : Sony Exmor:
Micro 4/3 (MFT) size. 20.3 Mp (Digital Live MOS).
12-bit pixel depth. 200 ISO native,
Processor : Venus Engine 10 Image Processor
Twin SD Memory Card Slots : Both supporting SD UHS-II type.
Top Video: 4:2:2 10-Bit, 4K 24/30 fps (internal) or 60 fps (external).
Video connector: Full-size (Type A) HDMI terminal w/ cable lock.
Burst shooting: 12 fps, 1.5GB buffer (70 uncompressed shots).
Estimated time to clear buffer with UHS-II cards: 14-15 seconds.
The rest of this page focuses mostly on that GH5 camera. The GH5s, officially released on 2018-01-08, is a different beast optimized for low-light video due to a lower resolution multi-aspect 10.2 Mp sensor with a basic sensitivity of 400 ISO and no sensor stabilization.
Recommended purchases with the Panasonic Lumix DC-GH5
What
Reference
Price
Camera Body
Panasonic Lumix DC-GH5
$2598
Kit Lens
Leica DG 12-60 mm f:2.8-4 ASPH
Extension Tubes
FotodioX Pro Auto Tube Kit for MFT
$43
Firmware Unlock
V-Log L Function Activation Code
$97
Extra Battery
Panasonic DMW-BLF19
$69
Dummy Battery &
AC Power Supply
Panasonic DMW-DCC12 DC Coupler
Panasonic DMW-AC10 AC Adapter
$30
$100
Internal Storage
Pair of V90 UHS II SDXC Cards
2 x $100
Fast Card Reader
Delkin USB 3.0 Dual Slot (UHS-II and CF)
$20
Fast Card Reader
Transcend RDF9
$17
XLR Microphone Adapter
DMW-XLR1
$398
The combined cost of $130 required to power the GH5 from the mains with Panasonic parts can be reduced down to $30 or so with third-party parts.

On the other hand, the pricey XLR1 adapter is a must, without which the audio track won't match the video quality of the GH5 camera (or else, you may use built-in audio just for synchronization with a handy recorder.)

Both UHS I (one row of contacts) and UHS II (two rows of contacts) SD cards can be used in the Lumix GH5 (SDHC indicates a maximum capacity of 32 GB, above that it's SDXC). The write transfer rate limit of UHS I is about 35 MB/s (280 Mbps). The UHS II interface allows double that rate (about 75 MB/s or 600 Mbps) which is well above the steady 400 Mbps recording capability of the GH5 (for 60p 4K video). However, a lot of UHS II cards can't achieve that speed. The V30 class falls short and V60 isn't quite reliable enough. V90 always works. Good V90 UHS II SD cards aren't cheap at this writing ($100 for 64 GB, early 2018).

V60/V90 SD Cards for GH5, 400 Mbps All-Intra (41:31 / 5:52) by Joseph Linaschke (2017-10-13).

Wikipedia : SD, SDHC, SDXC, UHS (SD = Secure Digital) | MFT mirrorless system

(2018-01-01) Downloading firmware updates. Unlocking software.
Upgrading cameras, lenses, etc. Unlocking V-log on the Lumix GH5.

Like the rest of this page, this article is mostly about Panasonic hardware (more specifically G-cameras, including the GH5) but the procedures are similar for other members of the MFT family.

The normal procedure for updating the firmware of lenses and other accessories is through the camera body they are connected to. Before updating the firmware of lenses and such, it's a good idea to first update the firmware of the body itself to the latest version available. In particular, the updating of an Olympus lens on a GH5 can only be done if that GH5 is running firmware version 2.1 or later.

SAVE YOUR CAMERA SETTINGS before any firmware update. It seems the upgrade procedure may leave the camera in a weird state: After updating the GH5 body and kit lens, I found that turning on or off the teleconverter function had no effect at all. Even resetting the camera wouldn't change that. I got back the functionality only by restoring previous settings from a saved file. So, if you've never saved camera settings, then you're out of luck! (Well, almost. The solution is to download somebody else's saved settings and start from there.)

The update procedure is the same for the camera or for a lens attached to it:

Obtain the proper update file and use a computer to put it on the root directory of a blank SD card, freshly formatted by the camera itself.
Insert that SD card into (slot 1 of) the camera before turning it on.
Start the update by hitting the PLAY button (normally marked with a circled right-pointing triangle).

The battery must be fully charged or the camera will refuse to proceed (updating an EEPROM may require voltage levels which aren't reliably available from a partially-depleted battery).

For example, at this writing, the latest DC-GH5 firmware is Version 2.2. For that update, you must use Panasonic's procedures to extract a file named GH5_V22.bin (68,057,600 bytes, 2017-11-17) which you place on the root directory of an SD card freshly formatted by the GH5 itself. Then, use that SD card to execute Step 2 and actually perform the GH5 update.

For a lens update, the procedure is identical (Panasonic calls it Step 3) except that the update file has an "lin" extension. For example, the file corresponding to the 1.1 firmware revision released on 2017-08-07 for the Leica 12-60 f/2.8-4 (H-ES12060) is called ES103011.lin (471,104 bytes, 2017-07-27). Don't ask me why that name isn't related to the part number.

The above procedure must be repeated from scratch for every device you wish to update (there's no shortcut for multiple updates). For a friendly introduction to the processus, see one of the videos given in the footnotes below. It's good to gain some familiarity with the process before attempting the (paid) software unlock described next...

Unlocking V-log capability on supported Lumix cameras :

V-Log is a paid upgrade for the GH4, GH5 and FZ2500 cameras.

The upgrade is more tedious and intricate to install than a simple update. The unlocking code is normally found in a box sold by Panasonic. In the unlocking procedure, you let Panasonic know online the serial number of the camera you are unlocking. They pair the unlocking code with the serial number and provide you with a small personalized text file which you can then use the same way you would use a regular update file (see above).

Here's the step-by-step procedure, including unnecessary precautions:

Confirm V-Log is not yet installed on your camera by going to the "Photo style" option in the "Motion Picture" menu (second icon from the top in the main menu). After "Like709" you're back to "Standard".
Read http://panasonic.jp/support/global/cs/dsc/ for latest info (GH5).
Read the boring printed license agreement you're agreeing to.
Break the seal and get the key code inside the envelope.
Save that key code in a safe place (as it may be needed if you send your camera for repair in the future). Once the key has been used to upgrade your camera, the code can't be used for any other camera. You have to type in the 25 characters in UPPER case without the hyphens when instructed to do so online.
Save your current settings to one of your regular card (just in case).
Remove your regular card(s).
Insert a spare card and format it.
Tap [Setup] (4th icon of main menu) and select [Activate]. Choose "Export Serial Code". Confirm that you agree to "start processing". This has the effect of putting a small file called SERIAL.LST onto the SD card at the following location:
> PRIVATE > PANA_GRP > PAVC > LUMIX > ACTV
Put the SD card into a card-reader connected to your computer.
You'll be directed to this upload site https://eww.pavc.panasonic.co.jp/enhance/UploadDevInfo.
Upload the file from your card reader (by clicking "choose file" and navigating to it; once "SERIAL.LST" appears in the box, click the upload button).
Enter the 25 charaters of the key code in UPPER case without the hyphens.
Click "Save to SD card".
If a file called ACTIVE.LST has not been to the same folder as your SERIAL.LST, locate it and put it there manually (Windows normally puts all dowloaded files into a folder called "Downloads").
Put the SD card back into slot 1 of your camera.
Turn the camera on.
Go again to Menu > Setup > Activate. Choose "Import Activation Code".
Turn the camera off and on again (as instructed).
Check that V-:og is now a Photo style option (after "Like709").
Turn your camera off. Put your regular cards back in.
Smile.

Unless you camera goes for repair, you should never have to install V-Log again. However, it's enough trouble that you may want to save the SD card. (That saves you the trouble of going online again, although Panasonic will gladly pair a key with the same camera many times.) The GH5s comes with V-Log pre-installed forever (that's part of what you get for an extra $500).

V-Log Installation & Firmware Update (40:41) Joseph Linaschke (2017-05-02).
GH5 Uploads: Firmware, V-Log, LUTs (27:59) Bernard Bertrand (2017-06-30).
GH5 v.2.1 Firmware Update (28:29) by Joseph Linaschke (2017-10-13).

Joint update service for Four Thirds lenses (including MFT lenses).
Index of Panasonic firmware updates | GH5 firmware page
Olympus update index | Olympus firmware updates

(2017-12-18) Neutral-Density (ND) filters (and polarizers).
An essential tool when shooting video in broad daylight.

Video work calls for the use of ND filters more frequently than still photography, because traditional video shooting dictates the shutter speed to create just enough motion blur in each frame. The rule (which can be violated) is to use what's called a 180° shutter, which means that the shutter is open for half the duration of a frame: 1/60 s when shooting at 30 fps, 1/120 s (1/125 s close enough) at 60 fps, etc.

Now, the venerable Sunny 16 Rule states that, in broad daylight, the proper exposure at f/16 is roughly obtained with a shutter speed numerically equal to the ISO sensitivity rating. The lowest native sensitivity on the GH5 is 200 ISO (you can go down to 100 ISO only at the expense of a reduction in dynamic range) which would impose a shutter speed of 1/200s at f/16. A proper 180° video shutter at 30fps would be 1/125s. Therefore, to maintain proper exposure at that speed, you have to stop down 2/3 of a stop; to f/20. Some lenses can't stop down that low and those which can do so only at the expense of a loss in sharpness due to diffraction effects. The solution is to reduce the incoming light with an ND filter by two stops or so to reach the sweet spot of most lenses (f/5.6 or f/8). That's precisely what an ND4 filter would accomplish.

Note that the V-Log setting in the GH5 (with optional firmware installed) starts at ISO 400. Likewise, the new GH5s lowest native sensitivity is 400. This means that an ND8 filter would be needed if shooting in broad daylight (although an ND4 could still do). If you want to use large apertures for better bokeh, you need even darker filters.

Be aware that the popular vario ND filters are actually two polarizing filters with a rotating front element. Well, the orientation of the front element determines the polarization and the orientation of the back element attenuates the light so polarized. If you want full control, you'd have to stack two polarizing filters so either polarizer can be rotated! The image degradation is the same as the less-flexible vario configuation (which makes density depend on polarization).

The darkest ND filters available are marketed as Solar Eclipse Filters. They reduce light by 20 stops and are only suitable for direct images of the Sun. Nothing else.

100 mm (4" by 4") Square Filter Systems :

The Cokin brand of square filters was first launched in France (1972) by Jean Coquin. The French establishment entered bankrupcy protection in 2012.

Several other companies now make unmounted "Cokin Z" 100mm square filters (out of expensive Schoii glass or the cheaper CR39 optical resin used by Cokin). The matching holders have up to 3 slots, which can also accomodate 100mm by 150mm rectangular plates (typically used for ND-gradated filters, which can thus be shifted more than 25 mm off center in either direction). The standard thickness is 2mm. Some square filters are only 1.6 mm thick and a few specialty filters are 4mm thick, requiring spacers which not all holders can accomodate.

Smaller sizes are available (e.g., Cokin P, 84mm width) at a lesser cost but they accomodate neither the ultra-wide lens mentioned below nor the wide angle and telephoto described elsewhere. Larger sizes are available for which I have no need at this time. (The largest made by Cokin is their X-series, 136mm wide. Other manufacturers provide 150mm width.)

Makers of 100mm square filters include:

You normally need one adapter for each filter thread in your lens kit. ultra-wide lenses without a filter mount require a special adapter.

The need for adapters can be bypassed entirely if the camera is mounted in a cage with rails and a DIY matte box (with French flags and barn doors to prevent flaring). In that case, the filter system is at the rear of the matte box and isn't mechanically connected to the lens.

Filter sizes | ND filters nomenclature | Matte box

The case against polarizing filters (29:38) by Tony Northrup (2016-01-15).

(2017-12-21) Most popular kit lens for the GH5 (H-ES12060):
Panasonic Leica DG Vario-Elmarit 12-60mm f/2.8-4 ASPH (Power OIS)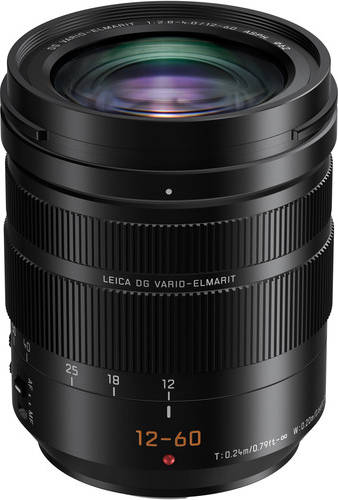 When bought with a GH5 body, this lens adds $600 to the price. It costs $998 when purchased separately.
14 elements, 12 groups
Mass: 320 grams
Dual stabilization.
Weather sealed,
dustproof, freezeproof.
Parfocal design.
Focus-by-wire.
Min. focus: 20-24 cm
9-blade diaphragm.
Min. aperture: f/22.
62 mm filter threads.
Video reviews :

Max Yuryev (7:46)
MirrorLessons (7:04)
David Thorpe (10:00)
4K 50p sample (5:50)

Firmware update
Tutorial 1.1 (2017-08-08)




(2017-12-21) Native MFT ultra-wide-angle zoom (H-E08018):
Panasonic Leica DG Vario-Elmarit 8-18mm f/2.8-4 ASPH ($1098).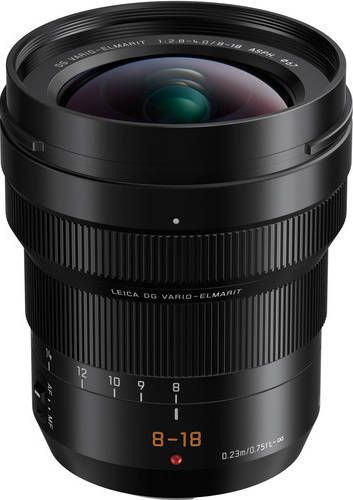 15 elements, 10 groups
Mass: 315 g
Height: 88 mm
Weather sealed,
dustproof, freezeproof.

No optical stabilization.
Varifocal zoom.
Focus-by-wire.
Min. focus: 23 cm
Magnification: 0.12

7-blade diaphragm
Min. aperture: f/22
This ultra-wide lens does have a front-filter thread (67 mm).
Bayonet hood.
Video reviews :

MirrorLessons (7:32)
David Thorpe (8:01)
4K 50p sample (13:49)




Some reviewers called this lens best lens of 2017. It was a B&H top-wish for the Holidays. Yet, I chose the better lens by Olympus which was lowered to the same price point at B&H, with a year-end $200 rebate (which is already permanent elsewhere). That Oly lens is better in every way, except weight and filter mount.

ePHOTOzine review

(2017-12-31) Best MFT ultra-wide-angle zoom to-date:
Olympus M.Zuiko Digital ED 7-14mm f/2.8 PRO Lens ($1299).

This lens improves upon its 2004 legendary brother, the Olympus ZD ED 7-14mm f/4 (see 8:40 review by Gordon Laing on 2007-06-21). The older version is discontinued but is still being sold new on Amazon for an outrageous price of $1799 (misleadingly so, if you ask me).

This new version, released in June 2015, is one full stop brighter.
It's one of the most impressive MFT lenses ever built.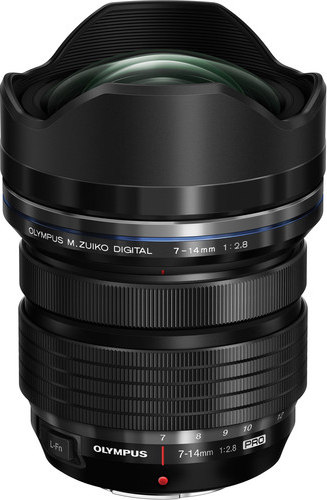 14 elements, 11 groups
Mass: 534 g
Diameter: 79 mm
Weather sealed,
dustproof, freezeproof.

No optical stabilization.
Parfocal design.
Mechanical focus (distance scale).
MWD: 7.5 cm.

7-blade diaphragm.
Min. aperture: f/22
Programmable button.
Built-in petal hood.
LC-79 lens cap.
No filter threads
(adapter needed).
Video reviews :
MirrorLessons (9:56) 2015-05-11
Darren Miles (12:41) 2015-05-25
DPReview (8:40) 2015-08-10
Blunty (5:01) 2016-03-29
Mitchell Millennial (4:49) 2016-05-04
GH5: Johnny Amiri (5:01) 2017-09-18

Firmware update
Version 1.1 (2015-11-26)
Like the latest Panasonic Ultrawide, this lens relies entirely on the camera body for image stabilization. This is fine on the GH5, but the newer GH5s has no in-body optical image stabilization (IBIS). Yet, you can normally hand-hold such a wide-angle lens at 1/30 s or faster fairly safely.

Pulling the focus ring engages a purely-mechanical manual focus and reveals a functional distance scale. This is a great design which allows classical follow-focus techniques in video work. In other words, the lens can really be focused manually; not through some focus by wire ersatz. It's parfocal ; the focusing distance doesn't change when the focal length varies.

The L-Fn button is programmable on Olympus cameras (up to 27 choices, depending on the body) and on a Panasonic GH5 with firmware 2.2 or above. Otherwise, the lens button only has the default "Focus Stop" functioniality (it freezes auto-focusing when pressed). When this lens is mounted on a GH5 with firmware v2.2, the following seven choices appear in the menu entitled Lens Fn Button Setting (found in the Lens / Others submenu at the bottom of the third main menu):

Focus Stop (default).
AF/AE Lock.
AF On.
Stabilizer.
Focus Area Set.
AF Mode / MF.
(Depth-fo-Field) Preview.
Off.

The choice applies at once to the button of every lens which might be connected to that body. At this time, it seems only one Panasonic MFT lens is endowed with a programmable button; It's the example they chose to illustrate this new feature of firmware 2.2: The $3000 Panasonic Leica DG Elmarit 200mm f/2.8 OIS (#H-ES200).

With such short focal distances, one millimeter can make a big difference: A 7 mm lens covers an apparent area 30.6% larger than an 8 mm lens.

The lack of front-filter threads in this ultra-wide lens may be a blessing in disguise: It's an excellente incentive to switch from circular filters lens-by-lens to a proper filter system for every lens in your kit. Especially for video work.

However, you still need a way to affix the filter holder to the lens hood (unless your filter-holder is at the rear of a matte box mounted on a pair of 15 mm rods attached to the bottom of the camera).

Several solutions have been proposed for this. Most of those are reviewed by Chris Eyre-Walker's (a self-described fan of this particular ultra-wide zoom) in a specialized guide (2017-08-08). Some links in the following footnotes provide complementary information and/or DIY alternatives.

Olympus product page | NewsShooter | DPreview | Amazon | B&H | dxoMark

Adapter for Lee Filter-Holder ($120).
Filters for the Olympus M.Zuiko ED 7-14mm f/2.8 Pro lens (DPreview forum, 2015-07-13).
Fotodiox Filter Holder for Olympus 7-14mm f/2.8 Pro lens: WonderPana FreeArc Core (product page).

DIY Olympus 7-14mm f/2.8 filter holder for Lee 100mm (5:04) by Nhat Phan (2016-05-08).
Phil Norton's NiSi filter adapter fot Olympus 7-14mm f/2.8 (12:54) by Jamie MacDonald (2016-04-03).
Lucroit filter holder ring for Olympus 7-14mm f/2.8 (6:01) by Eric Gibaud (2017-03-31).

(2017-12-25) Cinema Lenses: Veydra mini-primes.
Smooth T-stops, geared follow-focus, no focus breathing.

They all have the same form-factor, including an 80mm front diameter, taking 77mm filters. The focus scale is normally marjed in feet (metric markings available by special order, at a hefty markup).
Veydra Mini-Primes Cinema Lenses for MFT Mount

| Lens | Notes | Price |
| --- | --- | --- |
| Veydra 85mm T2.2 | Covers APS-C / Super 35 | $999 |
| Veydra 50mm T2.2 | Covers APS-C / Super 35 | $799 |
| Veydra 25mm T2.2 | Covers APS-C / Super 35 | $899 |
| Veydra 16mm T2.2 | Covers MFT only | $999 |
| Veydra 12mm T2.2 | Covers MFT only | $1199 |
Veydra Mini-Primes (12:46) by Chris Niccolls & Jordan Drake (2015-05-30).

(2017-12-18) Still Lighting. Flash strobes.
Shooting hybrid means taking still photos once in a while.

The "H" in GH5 means hybrid. Although the emphasis is on video, such cameras are very capable of shooting still photos. A small flash strobe may come in handy, as the GH5 has no pop-up flash.

The GODOX units are full-featured and seem well-built. Their price is low enough to stamp out the competition. I selected the smallest unit, which takes 2 AA batteries, because of weight and bulk considerations (for what I anticipate to be only occasional use). For $25 more, you have a heavier full-power unit which takes 4 AA batteries.

GODOX also sells a Li-ion model for $179, which has the same GN of 60 m at maximum extension (200mm reach) but actually delivers less energy since the other units have a zoom head with a lesser maximum extension (105mm reach). The same remark applies to the GN of 54m (177') advertised for the Nissin Di700A Flash, which takes 4 AA batteries ($299 with commander unit, $259 without).

For my Nikon system, I have both a 2-AA and a 4-AA strobe. It turns out that the smaller one is in my bag at all times and the heavier one stays at home most of the time... I figured I'd spare myself the same dilemma.
A selection of TTL strobes (flash) for still photography with the Lumix GH5
Class
LED
Reach
Guide Number
Reference
Price
Full
200
60m
197'
GODOX TT685o
$110
Mini
105
36m
118'
GODOX TT350o
$85
Full
105
52m
172'
Metz mecablitz 52 AF-1
$319
Medium
105
44m
144'
Metz mecablitz 44 AF-2
$230
Full
200
60m
197'
Nissin i60A (for MFT)
$340
Medium
200
54m
177'
Nissin Di700A (for MFT)
$259
Medium
105
40m
131'
Nissin i40 (for MFT)
$269
Full
100
58m
190'
Lumix DMW-FL580L
$499
Mini
85
36m
118'
Lumix DMW-FL360L
$227
Compact
(24)
20m
66'
Lumix DMW-FL200L
$228
A checkmark in the LED column indicate units which have a buit-in LED video light. The two larger Lumix units are rated 100 lux at 3.3' and curiously, the smallest one outputs twice as much.

What I call compact units are flashes without a zoom head. Their lower guide numbers reflect the fact that the beam isn't focused for telephoto use. Typically, the actual power is similar to that of a strobe in the mini class.

The reach given is the focal length (in mm) of a full-frame lens covering the same angle of view as the flash beam when the zoom head makes it narrowest. For compact units without a zoom head, the number given between parentheses is the reach of the fixed beam width specified by the manufacturer. All units nowadays have a diffuser screen which yields wider coverage for very short lenses.

Flash photography | TTL Flashes for Lumix Cameras (12:34) Joseph Linaschke (2017-05-01).
HSS off-camera flash tutorial (4:35) by Big G photo (2016-07-23).

Cages provide many standard mechanical connections around the camera to attach various accessories. The need is more obvious in video than in still photography because of the greater variety of available accessories. (Microphones, video lights, external monitor, etc.) It's possible to use a generic half-cage (three-sided) loosely connected to the camera via its ¼'' tripod mount, but a four-sided customized full-cage is more compact and more robust, albeit more pricey (sometimes insanely so).

Typical standard mechanical connectors on a cage include:

1/4''-20 & 3/8''-16 threaded holes (lots of them on a cheese plate).
Several 3/8-16 UNC threaded holes with Arri locating points.
Cold shoe sockets.
NATO rails (STANAG 4694, originally designed for firearms).
Clamps for 15 mm rods (more rarely, 19 mm rods).
Strap eyelets. (A top-bottom pair at right for a hand-strap.)

This is a bit like a Meccano-Erector® set. The whole cage may consist of several subassemblies with couplers between them.
Cage rig fitting the Panasonic Lumix GH5 (or GH5s)

| What | Reference | Price |
| --- | --- | --- |
| Camera cage | SmallRig 2049: GH5 Cage | $90 |
| Extra cold-shoe | SmallRig 1241 (using 1/4'' and 2.5mm on right-side) | $5 |
| Top handle | SmallRig 2017: Top Handle & DMW-XLR1 Helmet | $90 |
| Left-side handle | CAMVATE: Wooden NATO-lock Grip (Left Hand) | $30 |
| Left-side handle | CAMVATE: QR Deluxe Wooden Grip (Left Hand) | $79 |
| Monitor Mount | SmallRig 1842: Flippy Base (1.5 kg max) | $40 |
| EVF Mount | SmallRig 1587: | $52 |
| Articulated Mount | SmallRig 1497: Magic Arm | $13 |
| Arri Adapter | SmallRig 1978: Anti-rotation Magic Arm Adapter | $28 |
(2017-12-28) No-Stitch Hand Strap for Camera Cage
Just use flat nylon webbing and a pair of small triglide slides.

(2017-11-05) Micro Four-Thirds (MFT) Communication Protocol
How an MFT camera body and an MFT lens talk to each other.
Using Nikon DX (or FX) lenses with an MFT camera (e.g., Lumix GH5)

| What | Reference | Price |
| --- | --- | --- |
| Speedbooster | Metabones Ultra 0.71x for Nikon G Lens to MFT | $479 |
| Speedbooster | Mitakon Zhongyi Turbo II 0.726x for Nikon (G) | $149 |
| Nikon-F (G) adapter | FotodioX Nikon to MFT Adapter (DLX) | $80 |
(2017-11-31) External Video Recorder & Monitor
May also serve as a somewhat heavy electronic viewfinder (EVF).
Recommended accessories for Atomos Inferno Monitors / Recorders
What
Reference
Price
External Video Recorder
& 7" HDR Monitor
Atomos Shogun Inferno (& accessories)
10-bit 4:2:2, 4k 60fps
$1590
External Video Recorder
& 7" HDR Monitor
Atomos Ninja Inferno (& accessories)
10-bit 4:2:2, 4k 60fps
$1290
HDMI 2.0 cable
Atomos Full-to-Full HDMI coiled cable
$89
HDMI 1.4 cable
Atomos Full-to-Full HDMI coiled cable
$20
HDMI 1.4 cable
Atomos Full-to-Mini HDMI coiled cable
$20
Atomos SSD
G-Technology Atomos Master Caddy (1 TB)
$350
2.5" Solid State Drive
SanDisk 1TB Ultra II SATA III 2.5" SSD
$280
Atomos Shogun Inferno Review (13:56) by Caleb Pike (2017-08-29).
Panasonic GH5 and the Atomos Ninja Inferno (23:32) by Hugh Brownstone (2017-11-06).

SmallRig Shogun Inferno Cage by Lester Cohn (2017-10-23).

X-Rite i1Display Pro ($234) | How to Make a Music Video

Wikipedia : Codec

3D LUT Creator | Leeming LUT One by Paul Leeming.

How to add LUTs to the Lumix GH5 (3:45) by Luke Neumann (Neumann Films, 2017-04-18).

Proper Exposure :

Proper Color :

Proper Sound :

Best SD Cards for the Panasonic GH5 (6:07) by Caleb Pike (2017-10-10).

How to Sync Video and Audio in Final-Cut, Premiere CC iMovie (10:13) by Ted Forbes (2017-01-07).
Premiere Pro Tutorial: Editing LTT from start to finish (4:19:05) by Taran Van Hemert (2017-10-30).

Montage | Soviet montage theory | Sergei Eisenstein (1898-1948) | Doodle (2018-01-22)
Numericana Hall of Fame | Science YouTubers (7:25) by Brady Haran (2012-08-02).
BrainSTEM-2012: Vsauce, ViHart, John Green, MinutePhysics, CGPGrey, SixtySymbols, SED (7:25).

Lilliput A12 12.5" 4K Monitor ($599).