Final Answers
© 2000-2017 Gérard P. Michon, Ph.D.
Gravitational Waves
The general theory of relativity can be conceived only as a field theory.
It could not have
[been]
developed if one had held on to the view



that the real world consists of material points which move
under the influence of forces acting between them.
Albert Einstein
,
in his last scientific paper (December 1954).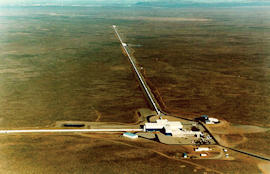 LIGO facility in Hanford, WA
Related articles on this site:
Phys 237 at Caltech (2002) by Kip S. Thorne and, in order of appearance: Sterl Phinney [12,12b,13,13b,15,15b], Alessandra Buonanno [...14b,26]
Lee Lindblom [17,17b], Mark Sheel [18,18b], Alan J. Weinstein [21,21b],
Phil Willems thermal noise [22,22b], Erik Black control theory [23,23b],
Matt Evans [24], Riccardo DeSalvo seismic attenuation [24b],
Barry C. Barish project management [25,25b], Yanbei Chen TA [26b],
John Armstrong of JPL [27,b,34,b], Albert Lazzarini data analysis [28,b],
Ronald Drever [29b], William O. Hamilton (LSU) bar detectors [30,30b,S],
William Folkner (JPL) LISA [31,31b,35], Robert Spero (JPL) optics [32,32b],
Bonny Schumaker (JPL) disturbance reduction [33,33b],
Marc Kamionkowski CMB polarization [35b].
First Term : (1) | (2) | 3,b | 4,b | 5,b | 6,b | 7,b | 8,b | 9,b | 10,b |
11,b | 12,b | 13,b | 14,b | 15,b | 16,b | 17,b | 18,b |
Second Term : 19,b | 20,b | 21,b | 22,b | 23,b | 24,b | 25,b | 26,b |
27,b | 28,b | 29,b | 30,b,S | 31,b | 32,b | 33,b | 34,b | 35,b |
Production (and homework solutions) by Mihai Bondarescu & Yanbei Chen.
Other Videos :
Gravitational wave astronomy by Martin Hendry (TEDx Glasgow, 2014).

Have Gravitational Waves Been Detected? by Matt O'Dowd (2015-10-22).
First Detection of GW. Press Conference : Part 1 & Part 2 (2016-02-11).
Live News Stream (University of Florida, 2016-02-11).
LIGO Detects Gravitational Waves (MIT, 2016-02-11).
Brian Greene Explains Gravitational Waves (2016-02-11).
What will we learn from G-waves? by Gabriela González (2016-02-11).
LIGO's First Detection of Gravitational Waves. Matt O'Dowd (2016-02-11).
Einstein's Gravitational Waves Discovered. TDC (2016-02-13).

What the discovery of gravitational waves means by Allan Adams (2016-02).
Gravitational Wave Discovery [2] Sixty Symbols by Brady Haran (2016-04-21).
A New Era of Astronomy Begins. World Science Festival (2016-06-04).
Les ondes gravitationelle et leur détection by Pierre Connes (2016-06-04).
Gravitational Waves by Brian Lantz (Public Lecture at SLAC, 2016-05-24).

LIGO Again Detects Gravitational Waves (MIT, 2016-06-15).
We Found Gravitational Waves... Again (DNews, 2016-06-15).
LIGO's Second Confirmation of GW. Matt O'Dowd (2016-07-20).

Golden Cubes and Gravitational Waves eLISA (Sixty Symbols, 2016-09-16).
UW Frontiers of Physics Lecture (1:32:49) by Dr. Rainer Weiss (Fall 2016).
Gravitational Waves Are Awesome by Dominic Walliman (2016-12-30).
Absurdity of Detecting GW with Rana Adhikari (Veritassium, 2017-01-05).
Reaction to GW detection from Rana X. Adhikari (Veritassium, 2017-01-05).
Black Holes and the Fundamental Laws of Physics Jerome Gauntlett (RI, 2017-09-29).
The Killernova that Transformed Astronomy by SpaceRip (2017-11-13).