The Physics of Pool and Billiards
This page (which is still a work in progress) will neither teach you the rules of the many extant billiard games, nor is it intended to improve your skills (I am not qualified to do that, but I recommend exploring some of the many encyclopedic and video links provided here).

One limited aim is to provide a rational introduction to all billiard games by describing their common history and characteristics as well as some basic differences in their implements.

Because Numericana is a mathematical site, the main emphasis is to explain why billiard balls (and cues) move the way they do. Many people share a fascination for the physics involved and rightly celebrate billiard masters as practitioners of a true form of art.
(2010-12-31) Size of the playing area (playbed) in a billiard table.
The nominal size of a pool table is 8'' more than its playing length.
(Traditionally, that nominal size was the length of the slate slab.)

The width of the playbed in a billiard table must be half its length. The width and the length are measured between the tips of opposing rail cushions.

The nominal size of a table (expressed in feet) is 8'' more than the length of its playing area. The advertised size (or quoted size) of a standard pool table is exactly equal to its nominal size, except in two cases:

A standard 7' table has a true nominal size of 7' 2'' corresponding to a playbed length of 78'' (not 76'' ).
An 8½' table has a nominal size of 8' 4'' corresponding to a playing area 92'' long (not 94'' ). Tables of that unusual size are also referred to as oversize 8 foot tables (or even 8 foot tables, which they're not).

The actual outside length of a pool table is almost always a few inches longer than its nominal size, but that's irrelevant to the calculation of the clearance space needed around a given table (which depends only on its cushion-to-cushion dimensions and on the length of the longest cue you wish to use).

The traditional length of the playbed in carom tables used to be specified as 8 pieds & 9 pouces in terms of the royal foot (pied de roi) used in France (and elsewhere, for scientific purposes) before the metric system. The legal conversion factor for this obsolete unit is effectively determined by Canada, which still uses an exact multiple of it for surveying purposes (the arpent). The pied de roi should thus be considered to be exactly 12.789'' or 0.3248406 m. With ludicrous precision, this makes the nominal length of a traditional carom playing surface exactly equal to 2.84235525 m. This piece of trivia is now all but forgotten. Instead, modern regulators have chosen to round the above number to the nearest centimeter (2.84 m) and allow a tolerance of 5 mm. A manufacturer mindful of tradition could still aim for the above bed length rounded to the nearest millimeter (2.842 mm) and enjoy a comfortable manufacturing tolerance of 3 mm. Following the above pattern, the nominal size of a traditional carom table is 8'' longer than its playing area (9.984' ). Such pocketless tables are advertised as 10 foot tables.

The 9-foot tournament pool table has exactly the same playing field (100'' by 50'' ) as the so-called small carom table (which has no pockets). The diagonal of a small carom bed is nearly the length of a full-sized one (111.8'' = 2.84 m).

Some manufacturers provide kits ("plugs") to convert a pool table into a small carom table with add-on rails that plug the six pockets (see picture at right).

Inexplicably, the current regulations for snooker specify a width and a length for the playing area which are not in a 1:2 ratio, although this was clearly not the intend of the regulators. Nevertheless, the large tolerance of 13 mm allows the construction of correctly proportioned playbeds, including three that have a whole number of millimeters per diamond unit, namely:

Width = 1788 mm. Length = 3576 mm. Tolerance = 2.7 mm
Width = 1784 mm. Length = 3568 mm. Tolerance = 7 mm
Width = 1780 mm. Length = 3560 mm. Tolerance = 4 mm

If the snooker regulators wanted to fix their mistake, they could choose one of these three specifications, ideally adopting a grandfather clause allowing an extended tolerance for tables built before a certain date (in order not to rule out equipment that was compliant when it was built). The last possibility listed has the superficial advantage of dimensions involving a whole number of centimeters (playbed dimensions of 3.56 m by 1.78 m) but it would entail a fairly large grandfather tolerance (22 mm in length and 15 mm in width).

To avoid numerical inconsistencies in the present article, I chose the middle specifications (3568 mm by 1784 mm) which has the best compatibility with the published (flawed) standards. If adopted (with a simplified grandfather tolerance of 19 mm in either dimension) those new specifications would entail manufacturing tolerances of 7 mm on 12' tables, which would be directly comparable to what's currently required for carom tables (namely, 5 mm on 10' tables). Every table made to the new specifications would comply with the former standards.
Physical Dimensions of the Basic Equipment Used in Cue Sports
Length of playbed is indicated between parentheses. It's exactly twice the width, measured between cushions.
Mini
Pool (UK)
Pool (US)
Carom
Snooker
Full-Size Table
5'
7' (78'' )
9' (100'' )
10' (2.84 m)
12' (3.57 m)
Smaller Size(s)
4'
6' (64'' )
7', 8' (88'' )
9' (100'' )
8', 9', 10'
Ball Diameter
44.45 mm
50.8 mm
57.15 mm
61.5 mm
52.4 mm
Cue Length
36-48''
52-57''
56-58''
56-58''
57-63''
Tip Diameter
[ most common ]
(8 mm)

8-10.5 mm
[ 8.5 mm ]
9-14 mm
[ 12.75 mm ]
(12.25 mm)
[ 12 mm ]
8.5-11 mm
[ 10 mm ]
The unofficial format listed as mini is found in folding tables for casual family use. Smaller tabletop billiard boards are used with marble-like balls (1¼'' = 31.75 mm or smaller) barely playable with tiny cuesticks.

At the other end of the spectrum, tournaments of Russian billiards (Pyramid) are played on regulation snooker tables using large balls (68 mm diameter) which are barely 5 mm smaller than the corner pockets. Some amateurs play that game with slightly smaller balls (60.3 mm) on less massive tables (e.g., 9', 8' or 7').

The space around a pool table must allow shots where the cue ball is against the cushion and the cue stick is perpendicular to the edge. So, the distance between the wall and the edge of the playing area (cushion nose) must be at least one cue length, plus six inches of draw (backstroke).

So, with 58'' cues, a minimum distance of 64'' (1.63 m) is required between the nose of a cushion and the wall behind it. The wall-to-wall distance required to play a given table with a full cue is thus 128'' (3.25 m) longer than either dimension of the table's playing surface (the size of the rails is irrelevant). For a full-size (9-ft) pool table, this works out to be 228'' by 178'' (5.79 m by 4.52 m). A 7-ft table (playing length 78'') fits in a 5.23 m x 4.24 m room. A table can be used in an undersized room by playing the aforementioned critical shots with a "shorty" cue (whose maximum length is 6'' less than the smallest cushion-to-obstacle distance). According to regulations, a pool cue must be at least 40'' in length but shorter cues (down to 30'' or so) are available which can accomodate severe space limitations (they're also great for younger players).

Carom tables have no pockets. The other tables listed above have 6 pockets (at the 4 corners and in the middle of the long sides). The width of each pocket is such that two balls of the tabulated diameter will barely fit side by side between the slanted rails (watch: How to Measure a Pocket).

Diamond Sights & Diamond Unit :

The conventional unit of length in billiards is called the diamond and it's equal to the center-to-center distance between the adjacent diamond marks that all billiard tables have (or should have) on their rails. One diamond is equal to one fourth of the width of the playing area (or one eighth of the length). Pocketless (carom) tables thus feature 9 diamond marks on the long rails and 5 diamond marks on the short ones, including extreme marks (which are sometimes omitted) that indicate the positions of the noses of the cushions perpendicular to the rail. On pool tables, the presence of pockets eliminates the four pairs of corner marks and the two marks in the middle of the long sides. This only leaves six sets of three actual diamond markers between adjacent pockets. Nevertheless, the underlying diamond grid is exactly the same for pool tables and pocketless tables.
The value of the diamond unit varies with the size of the table

| Quoted Size | Nominal Size | Playing Length | Diamond Unit |
| --- | --- | --- | --- |
| 12' Snooker | 12' 4½'' | 3.568 m | 446 mm |
| 10' Carom | 9' + 30 cm | 2.84 m | 355 mm |
| 9' | 9' | 100'' | 12.5'' = 317.5 mm |
| 8½' | 8' 4'' = 100'' | 92'' | 11.5'' = 292.1 mm |
| 8' | 8' | 88'' | 11'' = 279.4 mm |
| 7' Bar box / Pub | 7' 2'' | 78'' | 9.75'' = 247.65 mm |
| 6' | 6' | 64'' | 8'' = 203.2 mm |
| 5' Mini | 5' 2'' | 54'' | 6.75'' = 171.45 mm |
| | L + 8'' | L | L / 8 |
Sizes of Billiard Balls Used in Modern Games (nominal density: 1.7 g/cc)
"Grapefruit" and "rock" are calibers for cueballs in automatic tables that detect and return oversized or heavy balls.
Game Format
Diameter
Volume
Nominal
Mass
Regulation Mass
Min.
Max.
?
72.00 mm
195.43 cc
332.23 g
Pyramid - full
68.00 mm
164.64 cc
279.88 g
Carom
61.50 mm
121.79 cc
207.05 g
205.00 g
220.00 g
Pyramid - small
60.50 mm
115.95 cc
197.11 g
Grapefruit ( 23/8'' )
60.33 mm
114.95 cc
195.41 g
205 g (measured)
Rock ( 2¼'' )
57.15 mm
97.73 cc
195.41 g
Heavier Density
US Pool - 2¼''
57.15 mm
97.73 cc
166.15 g
155.92 g
170.10 g
Bumper ( 21/8'' )
53.98 mm
82.33 cc
139.97 g
Snooker ( 21/16'' )
52.39 mm
75.28 cc
127.98 g
UK Pool - 2''
50.80 mm
68.64 cc
116.69 g
Pétanque - cue
48.00 mm
57.91 cc
98.44 g
Pétanque - jack
38.00 mm
28.73 cc
48.84 g
Mini - 1¼''
31.75 mm
16.76 cc
28.49 g
Half-scale ( 11/8'' )
28.58 mm
12.22 cc
20.77 g
The Belgian company Saluc S.A. (founded in 1923 and owned by Armand Capital Group of Chicago) dominates the manufacture of phenolic billiard balls, which it sells under the Aramith brand, in several grades. From the Belgian village of Callenelle, they supply 80% of the billiard balls worldwide.

The largest billiard company in the World, Brunswick Billiards, an American manufacturer of pool tables founded in 1845, started making phenolic billiard balls in 1945. Now, they sell only the Brunswick Centennial prestige brand, which is actually manufactured by Saluc to the same specifications as the finest Aramith balls (a 16-ball set of either brand retails for about $250).

Other brands offer more affordable balls, made from unsaturated polyester resins, which do not quite match the performance or durability of real "Belgian phenolic balls". Simpson's decorative Elephant Beautiful Balls (about $180 a set) have based their reputation on good looks, not durability.

The manufacture of "Elephant Balls" is now commissioned by Sterling Gaming, a billiard wholesaler from Matthews (North Carolina) retailing as CueSight Technologies. Under the Sterling brand, they sell other styles of balls, in different grades, based on the same technology.

Bargain brands like Action are offering decent 16-ball sets for $30 or so.

Unbranded cheap acrylic billiard balls are apparently off the market...

Videos on sphere-making: Bowling Balls | Marbles | Ball Bearings

A pool stick should have about 3 times the mass of the ball it's intended for. Snooker cues have longer and thinner shafts with shorter butts featuring a flat section which can accomodate a plate. Some snooker cues can be fitted with butt extensions which may or may not be associated with the use of a mechanical bridge or rest (the latter term used to be a slang term).

Because of the large size of snooker tables, rests are more commonly used in snooker than in other forms of billiards. They come in many shapes and designs: rake, cross, spider, swan (swan-neck spider) and extended rest. Lately, the versatile "Flexi-Rest" has been supplementing the traditional assortment and seems to be slowly replacing part of it.

Nowadays, the finest cues are meant to travel with their owner and come in two pieces which are screwed together at play time:

An ornate rear thick part, called butt (talon in French).
A plain thin part (½'' in diameter) called shaft (flèche in French).

For pool and carom billiards, two-piece cues always feature a center joint (i.e., the two pieces are roughly of the same length). On the other hand, snooker cues are almost always "3/4 jointed", which is to say that the buttpiece is about 16'' and the shaft is 42'' (a foot longer than in center-joint design). The traditional design for a one-piece snooker cue calls for a butt of ebony to be spliced into a shaft of ash up to a distance of about 22'' from the rear. That distance is typically respected in jointed cues but the splicing is limited to the front part of the cue; the rear part being solid ebony.

The joint between the two parts is mechanically critical. A superior solution, introduced by the Canadian cuemaker Thierry Layani, is the conical joint.

Selecting a snooker cue | "How it's made" Video : Pool Sticks
Thread : Are We All Using Low-Deflection Shafts, Now? (Pool.bz) | OB Cue Shafts

Novelties : Demo by Jason Lynch of Pneu-Power Cues (2010) $199 | Laser Cue by CueSight (1999) $149


Only once in my adult life did I travel to a remote location for the sole purpose of having fun: In the Summer of 1976, I spent several weeks on the Island of Mauritius at the Club Méditerranée resort, where I learned to water-ski and was initiated to a billiard game that I would only know as billard sud-africain until I learned its correct name, much later, from a British TV broadcast: Unwittingly, I had learned snooker !
Although snooker was invented around 1875 (possibly by Colonel Sir Neville Chamberlain of the British Army garrisons of India) its modern popularity is due to the advent of British color TV broadcasts (1969).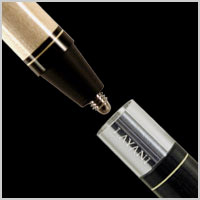 Today, on my 55-th birthday, I finally got my own state-of-the-art billiard gear... As an engineer, I could only go for the conical joint of Thierry Layani. Once you know about it, no other cue joint makes sense.
Here is what's in my case, now:
The 29½'' (420 g) no-point Layani Brown Sonoran buttpiece pictured at left (nutmeg-stained curly maple with bloodwood, Brazilian wood and ebony inlays and rings) sporting a velvet grip of 32.5 cm (Renzline manchon weighing 15 g).
Predator 3142 shaft (no logo, 0.6'' ferrule, 114 g). Conical joint by Thierry Layani (thanks to Philippe Singer of Kozoom).
Layani pool shaft (12.75 mm tip / 29 inches = 73.66 cm / 123 g).
Layani 3-cushion shaft (12 mm tip / 69 cm / 105 g).
Layani 5-layer medium-hard cue tips (13.5 mm in diameter).
A 25 cm Layani extension tube (28.5 cm with joint) 112 g.
A weight kit (balancing bolts & key) 56 g, 36 g, 26 g, 16 g, 10 g.
4 female Layani joint protectors (for shafts).
2 male Layani joint protectors (for buttpieces).
Just-A-Bridge. Moosehead Bridge Head.
Willard's Tip Shapers (nickel and dime).
Blue Diamond chalk (blue). Silvercup chalk (green).
Aramith micro-fiber cloth, with backing.
Etc.
The Layani extension normally goes between butt and shaft. Happily, it doubles as an 11½'' buttpiece (with a joint protector in the rear) which is just long enough to form a legal jump cue, using any 29'' shaft.
The minimum length allowed for a pool cue is 40'' and the maximum weight is 25 oz. There's no set maximum length or minimum weight. The diameter of the tip must be between 9 and 14 mm.
What's in the pool cue case of...
Efren "Bata" Reyes | Johnny Archer (The Scorpion) | Ralf Souquet (The Kaiser) | Eric Frost
Earl Strickland (The Pearl) | Eric "Fatboy" Peterson | Max Eberle (Mad Max) | Eric Yow (The Preacher)
Ladies: Jasmin Ouschan | Samm Diep | Sarah Rousey | Kelly Fisher | Laetitia Dos Santos (in French)
Carom Players: Pierre Soumagne (in French) | Peter De Backer | Frédéric Caudron
Captain François Mingaud (1771-1847) was one of the most famous billiard player of his day, in his native France and elsewhere. He had designed a very popular cue in 1790 which he perfected in 1807 by inventing rounded leather tips (while imprisoned in the Bastille). Captain Mingaud also inspired the first complete analysis of the game by the physicist Gaspard Coriolis, in 1835.

Modern leather tips come in several grades, according to their mechanical properties: soft (or slow) medium and hard. They may be layered or include additives to achieve the desired grade. The hardest tips forgo leather entirely, in favor of the type of hard resin used in modern billiard balls; they are commonly known as phenolic tips and are exceptionally durable (they hardly ever require shaping or replacement for many years). The misguided current trend is to ban phenolic tips on break cues (such tips will probably always remain legal on jump cues, where they are all but indispensable, and on playing cues, where there are all but useless). The advertised motivation of regulators is to increase the life expectancy of cueballs...

Curiously enough, the use of leather tips can be objectionable to some players for religious reasons, since "leather" is often pigskin (according to many manufacturer specifications).

The front end of a tip should have a spherical shape. Poolplayers can choose between only two sizes (named after the ten-cent and five-cent US coins) because only two gauges of shaping tools are available:

Dime: Nominal radius of 0.3532'' (8.9535 mm). About 9 mm.
Nickel: Nominal radius of 0.4175'' (10.6035 mm). About 10½ mm.

The most popular shaping tools (single or dual gauge) include:

(2011-03-14) The two kinds of billiard chalk...
One reduces hand friction, the other increases tip friction.

Modern billiard cue chalk is different from common chalk (limestone, composed of calcium carbonate) which billiard players were using on their leather cue tips before 1897. It's also entirely unrelated to what's variously called blackboard chalk, artist's chalk or sidewalk chalk which consists mostly of compressed calcium sulfate powder, obtained from gypsum.

The term billiard chalk denotes ambiguously two different things which are better called, respectively, billiard powder and cue chalk :

Billiard Powder Decreases Friction :
To most chemists, billiard chalk means magnesium carbonate (MgCO3). This stuff is the powdery substance that gymnasts and other athletes put on their hands, or other body parts, to reduce friction with various sport implements, including barbell and high bar. (The effect is opposite to that of rosin, which is used to improve grip on a shot put, baseball or bowling ball.)

In pool halls, this type of "chalk" (improperly known as talc ) is called cone chalk as it's usually available in the form of solid cones mounted on walls or furniture. Some billiard players apply that on their bridge hand to reduce shaft friction.
Other players choose to bring their own powder to the scene, which is usually some form of real talc in the finely powdered form otherwise known as baby powder or, more precisely, talcum powder. The solid form is known as taylor's chalk. Soapstone (steatite) consists mostly of pure talc or magnesium silicate hydroxide Mg3Si4O10(OH)2 [not MgSiO3 ].

Above a certain level of humidity, all billiard players need to use such stuff, unless they wear a billiard glove. Nowadays, corn starch is often substituted for talc in actual baby powder (watch the labels). Both work fine for billiard use but corn starch will not cause the respiratory problems associated with the repeated inhalation of talc by babies.
Because of its smoothness and ease of carving, soapstone (steatite) was chosen by the French sculptor Paul Landowski for the outer layer of the famous statue of O Cristo Redentor (Christ, the Redeemer) 710 m over Rio de Janeiro, Brazil.

The statue has a 30 m span. Its concrete core was designed by the local engineer Heitor da Silva Costa. It was built between 1922 and 1931 on top of the prominent Corcovado granite peak (whose name means hunchback in Portuguese).
Christ the Redeemer, over Rio de Janeiro.

Martyn Poliakoff's means SiO3 (not 4) and granite (not marble).
Cue Chalk Increases Friction :

The rest of this article deals with something else entirely, which is what almost all billiard players (who aren't chemists) think of as chalk, namely the stuff unambiguously known as billiard-cue chalk or cue chalk. It is applied to cue tips to increase friction with the cue ball during collision. With too little friction, some skidding between tip and ball might occur; an undesirable phenomenon known as a miscue.

The use of cue chalk to prevent miscues predates the invention by Mingaud of the leather tip (in 1807). At first, players were simply scratching the tip of their wooden sticks directly on the plaster finish of surrounding walls (plaster is calcium sulfate). Pieces of chalk for specific use in billiards had already been in use for some time when one Jack Carr had the idea of marketing them as "twisting chalk" to stress the idea that his own "brand" of chalk could help players mimic his own skill at imparting spin.

The dominant (cheap) type of cue chalk is still based on the recipe devised in 1896 by the American chemist William Hoskins (1862-1934, also remembered for invented the nichrome alloy used in electric heating) and the professional billiard player William A. Spinks (1865-1933), who was more commonly known as Billy Spinks. They were jointly issued US pat. 578514, dated March 9, 1897 [ 1, 2 ] which covers:

A substitute for billiard-chalk composed of [normally white] pulverized silica, corundum, a binding agent and a coloring agent such as chrome-green, the whole being compacted into cakes or blocks.

The stuff was marketed by Wm. A. Spinks & Co. early in the 20th century. The original cakes of Spinks chalk were cylinders. Now, virtually all cakes of cue chalk are manufactured as cubes with a small spherical indentation that grows with actual use.

Most brands of chalk are now discontinued (see table below for today's dominant brands). Former favorites became collectibles, including:

Spinks.
Manhattan Club (by the Brunswick-Callender-Blake Company).
Clik (by the Brunswick-Callender-Blake Company).
Etc.
Some Current Brands of Cue Chalk
Pack size is smallest number of pieces available at retail. Cost is from Internet offers (without tax & shipping).
Owned by
Brand
$ / pack
Piece
Colors
Recipe
Longoni
(est. 1945, Italy)
manufactured by Tweeten
for the Norditalia Company
Blue
Diamond
$6.10 / 2
$3.05
Blue
(c. 1980)
NIR Super
Professional
$7.75 / 3
$2.58
undersized
Blue
(c. 2000)
Brunswick
$5.52 / 12
$0.46
B,G
Silver Cup Chalk
(est. 1990)
Macon, GA
National
Tournament
$3.25 / 12
$0.27
"NTC"
B,G
red wrap
US patent
578,514
(1897)
Silver Cup
$2.75 / 12
$0.23
24
Tweeten Fibre Co.
Chicago, IL
Master [thick]
$2.75 / 12
$0.23
10
Triangle [thin]
$2.75 / 12
$0.23
B,G,R