Arduino® Microcontroller Boards
(2014-05-02) Arduino Starter Kit ($113.82)
A review of the flagship starter kit, based on an Arduino Uno.

Decoding a PWM signal using the input capture module (PIC) by Matthew Watson.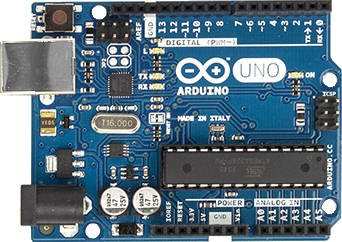 The latest incarnation of the original Arduino UNO is the third revision, released by Arduino in 2012 (pictured at left). The metal connector in the upper left is a full-sized USB "Type B" upstream receptacle which allows the Arduino to take on the role of a peripheral device connected to a computer via a standard USB cable.