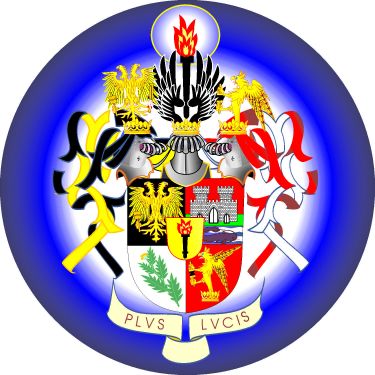 Karl Freiherr Auer von Welsbach (1858-1929)
[ discovered Praseodymium (Z=59) and Neodymium (Z=60) in 1885 ]
The following German blazon [with a canting second quarter] is from the
book "Österreichische Wappenkunde" (Austrian Heraldry) by Franz Gall.
It was kindly provided, and tentatively translated, by Jochen Wilke
who also presented us with the above depiction, on 2004-06-19.
[ © 2004 Jochen Wilke. This copyrighted image is reproduced here by permission. ]

The obscure picture (processed) we had used prior to June 2004
shows some additional features, including two dragons Gules as supporters.
Geviert mit Herzschild:

1. in Schwarz ein rotbezungter goldener
Doppeladler, in der rechten Klaue einen
goldenen Winkelhaken, in der linken ein
goldenes Tenakel mit Divisorium haltend
(Buchdruckerwappen
mit gewechselten Farben);
Quarterly with an inescutcheon,

1. Sable, a double-headed eagle Or,
langued Gules, holding in the dexter claw a
composing stick Or, and in the sinister claw
a galley with a copy holder of the same
(arms of book printers,
with changed tinctures);
2 in Rot auf grünem Boden eine silberne
Zinnenburg mit spitzgewölbtem Tor und
zwei Seitentüren (aus dem Wappen der
Stadt Wels), davor ein fließender Bach mit
natürlichem Wels;
2. Gules, upon a terrace Vert, a castle double
towered Argent with a gothic archway
(from the arms of the city of Wels);
in a foreground creek, a catfish Proper;
[ In German: Wels = catfish, Bach = creek ]
3 in Silber fünf gezackte, grüne Blätter
an einem Stiel (Pflanze: Mithridat);
3. Argent, five serrated leaves on a
stalk Vert (mithridate mustard);
4 in Rot ein aus einer goldenen
Blätterkrone wachsender rotbezungter
goldener Greif, zwei schwarzgepolsterte
goldene Buchdruckerballen
gegeneinander pressend
( = Helmzier des Buchdruckerwappens).
4. Gules, a demi griffin Or langued Gules
issuant out of a ducal coronet Or,
pressing together two inking balls
of the same, cushioned Sable.
(= crest of book printers)
Herzschild: in Gold pfahlweise eine
brennende schwarze Fackel.
Inescutcheon: Or, a torch Sable,
allumed Proper.
Drei Helme:
1 der Adler aus Feld 1;
2 die Fackel des Herzschildes zwischen
offenem schwarzen Flug;
3 der Greif aus Feld 4 wachsend.
Helmdecken: rechts Schwarz und Gold,
links Rot und Silber.
Three helms:
Dexter: The eagle of the first quarter.
Middle: Between two eagles wings Sable,
the torch of the inescutcheon.
Sinister: The griffin of the fourth quarter.
Mantling: Per pale, Sable doubled Or
and Gules doubled Argent.
Devise: Plus lucis.
Motto: Plus Lucis (more light).

At right is the coat-of-arms of the guild of book printers.
The eagle of the shield is shown Or (instead of Sable) in the first quarter of
the above arms, and the griffin from the crest is featured in the 4th quarter.

The motto "plus lucis" is a reminder of Auer von Welsbach's contributions
to both gas lighting (the Auer lamp) and electric lighting (the filament bulb).



Biography of Auer von Welsbach | Wikipedia


---