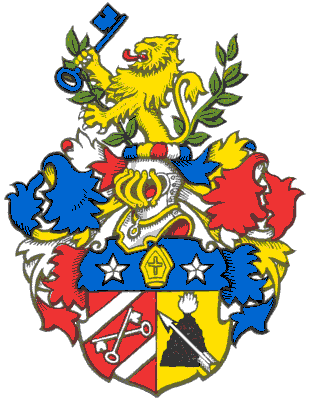 Emanuel Swedenborg (1688-1772)
The above coat-of-arms of Emanuel Swedenborg (1688-1772)
is a copyrighted image drawn by the renowned heraldic artist
Carl-Alexander von Volborth (1919-).
Per pale; [1] Gules, two keys in saltire between two bendlets sinister Argent;
[2] Or, a volcano ablaze Proper with an arrow Argent bendwise in base.
Overall on a chief Azure, a bishop's mitre Or, between two mullets Argent.

Crest: From an open turret, a demi lion Or holding a key Azure in dexter paw,
between two branches of laurel Vert. Mantling: Or, Argent, Azure and Gules.
Notes [edited summary] :
[Jan Böhme, 2004-07-26] This shield is displayed, with its 17th century Swedish blazon, at the genealogy page of the Swedish "House of Nobles" (Riddarhuset).
Enter either "Swedenborg" in the Namn field or "1598" in the Nummer field.

[George Lucki, 2004-07-26] Swedenborg documents, including patent of nobility with blazon.

[James Drabble, 2004-07-26; email] Picture on page 14 of a 2.37 MB pdf document.




---