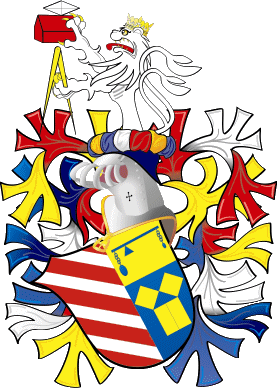 Christopher Polhem (1661-1751).
Swedish engineer, knighted in 1716.
[ The above copyrighted picture is reproduced here by permission: © 2006 Jochen Wilke ]

Christopher Polhem is widely acknowledged as the forefather of modern Swedish engineering. He was an older contemporary and a close friend of Emanuel Swedenborg (1688-1772).

Christopher Polhem's coat-of-arms has recently been discussed in a Swedish heraldic forum, in response to a query of Jochen Wilke who composed the above rendition. A version of the depiction at right appears in an electronic compilation of Swedish heraldry (Svensk WapenCD).

Enar Nordvik remarks that the demi lion of the crest holds a canting element in its dexter claws: A diamond symbolizing the North pole (pol in Swedish) sits on top of a home (hem in Swedish). It's worth mentioning that Christopher Polhem changed his name when he was knighted in 1716 (he was born Polhammar ). Thus, the new name may well have been designed to match such a pun in the new crest, instead of the other way around...

In the same discussion, Mats Persson points out that the geometrical figure in base sinister is meant to illustrate the Pythagorean theorem.

The Theorem of Pythagoras in Heraldry :

There seems to be at least one earlier example of the use of the Pythagorean theorem as an heraldic charge, namely in the coat-of-arms which the Austrian painter Jakob Seisenegger (1505-1567) may have borne. The alternate spelling "Seissenegger" is clearly a modern mistake (as the German pronounciation would be totally different) traceable to an early version of a Wikipedia article and/or its later expansion on the very topic of unusual heraldic charges. The erroneous spelling in either article was probably copied verbatim from Rietstap's armorial, where the following blazon can be found for the Seisenegger arms.

Seissenegger [sic] Ecartelé: aux 1 et 4, d'azur, au théorème de Pythagore d'or; aux 2 et 3, d'or, à un griffon de sable, tenant de sa patte senestre une couleuvre ondoyante en pal au naturel. Casque couronné.

However, I've been unable to link those arms firmly with Jakob Seisenegger himself. Therefore, they could be more recent than the above Polhem arms. Please, tell me what you know.




---