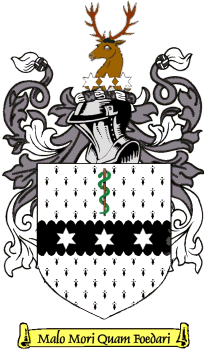 Coat-of-arms of Joseph Lister (1827-1912)
Baron Joseph Lister of Lyme Regis
The above depiction of the coat-of-arms of Joseph Lister is due to Stephen Plowman.
[ © 2004 Stephen Plowman. This copyrighted image is reproduced here by permission. ]


Ermine, on a fess invected Sable three mullets of six points Argent,
in chief a staff of Aesculapius erect Proper.
Crest : A stag's head erased Proper, in front thereof three estoiles fesswise Argent.
Motto : Malo mori quam foedari. [I'd rather die than be disgraced.]
Baronet in 1883. Baron in 1897.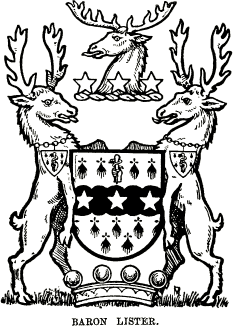 References:

Harleian Society - Grantees of Arms (1687-1898)
Lister, Sir Joseph, Bart., of London, 1884, Vol. LXII, fol. 184;
Supporters (Baron Lister), 1897. Vol. LXIX, fol. 267.
Burke's General Armory - Supplement
Lister (Bart., of Park Crescent, m. Middlesex).
Erm. on a fess invected sa. three mullets ar. in chief a caduceus* ppr.
Crest-A stag's head erased ppr. in front thereof three mullets fesswise ar.
Motto-Malo mori quam foedari.

(*) The correct charge is a staff of Aesculapius (single serpent, symbol of medicine) not a caduceus (two serpents, symbol of commerce). The above references were kindly provided by Stephen Plowman.
Joseph Lister, 1st Baron Lister, Bt., OM, FRS, PC made his mark as a surgeon and a pioneer of antiseptic surgery. He was born on 5 April 1827 in Essex, to an n affluent Quaker family. His father, Joseph Jackson Lister, FRS (1786-1869) is remembered for perfecting the optical microscope by designing achromat object lenses combining crown and flint glass elements (Lister Sr. did this while engaged full-time as a wine merchant).

Joseph Lister (1827-1912) applied the ideas of Louis Pasteur (1822-1895) by introducing antiseptic surgery while working at the Glasgow Royal Infirmary. Lister promoted the use of carbolic acid (phenol) to sterilize instruments and clean wounds. This reduced post-operative infections and made surgery safer. Joseph Lister was made a Baronet in 1883 and became a Baron in 1897. He passed away on 10 February 1912.







---