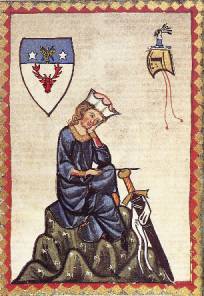 William Thomson (1824-1907) Lord Kelvin, Baron of Largs
Baron Kelvin of Netherhall, Largs
(knighted Nov. 10th 1866, raised to the peerage in 1892)


Argent, a stag's head cabossed Gules, on a chief Azure a thunderbolt
Proper winged Or, between two spur revels of the field. [1866]
Crest: A cubit arm erect vested Azure, cuffed Argent,
the hand grasping five ears of rye Proper.
Supporters: Dexter: A student of the University of Glasgow, habited [Gules],
holding in the dexter hand a marine voltmeter.
Sinister: A sailor habited [Azure], holding in the dexter hand a coil, the rope passing
through the sinister, and suspended therefrom a sinker of a sounding machine, all Proper.
Motto (over the crest): Honesty without fear.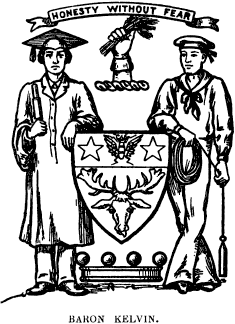 Heraldic Notes [edited summary] :
Exhibit: Lord of the Realm.
A thunderbolt Proper winged Or is the crest of the Clan Carnegie. We don't know if Lord Kelvin was claiming this affiliation.
[2004-08-07] Stephen Plowman confirms and expands our previous armorial information by providing scanned copies of Lord Kelvin's biography and the picture reproduced at right from:
New Extinct Peerage 1884-1971
by Leslie G. Pine
Genealogical Publishing Co., Baltimore MD (1973)
---
William Thomson was born in Belfast on June 26, 1824. He was educated at the elementary school attached to the Royal Belfast Academical Institution where his father, James Thomson, was a professor. In 1832, James accepted an appointment as professor of mathematics in the University of Glasgow, Scotland. Founded in 1451, the University of Glasgow is the fourth-oldest university in the English-speaking world; after Oxford (1096), Cambridge (1209) and St. Andrews (1413). The family relocated to Glasgow in October 1833. In 1834, at age 10, William enrolled in the elementary school that was part of his father's new institution.

In 1841, at age 17, the future Lord Kelvin started his Cambridge education at Peterhouse (often called St. Peter at the time) the oldest constituent college of the University of Cambridge (founded in 1284 by Hugh de Balsham, bishop of Ely). He graduated second wrangler in 1845 (everybody was expecting him to be first wrangler) and was duly elected a fellow of St. Peter's in June 1845. The young William Thomson then spent some time in Paris, in the laboratory of Henri Victor Regnault (1810-1878; X1830) who had succeeded Gay-Lussac (1778-1850; X1797) as Professor of Chemistry at Polytechnique, in 1841. Regnault had also been made Professor of Physics, in 1843, at the Collège de France and he was a noted pioneer of thermodynamics known for his careful measurenents of the properties of gases.

In 1846, at the age of 22, William Thomson was appointed to the chair of natural philosophy at the University of Glasgow, which he had been attending as a youngster a few years earlier. He found himself lecturing to some of his former classmates there... (Later, as Lord Kelvin, he would keep celebrating this appointment by signing "Kelvin PNP", where the "PNP" stood for Professor of Natural Philosophy.)
William Thomson, 1st Baron Kelvin | Arms of the Thomsons | Lord Kelvin Online | Kelvin Society





---