Graf Zeppelin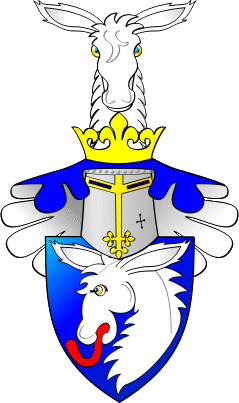 Ferdinand von Zeppelin (1838-1917)
German industrialist
The above is a copyrighted picture reproduced here by permission. © 2007 by Jochen Wilke.
Wilke chose a gothic style evocative of the ancestral arms of a uradelig family
from Mecklenburg, rather than follow the details of the following English blazon.
Azure, a donkey's head erased Argent.
Crest : On the shield, a count's coronet. Above that, a helm
with a donkey's head Argent issuing from a coronet Or.
Supporters : Two eagles regardant argent, wings displayed and inverted.

In Blau ein silberner Eselskopf mit ausgeschlagener Zunge.
Auf dem Helme mit blau-silberner Decke ein Eselskopf wie im Schilde.
---
Ferdinand von Zeppelin (Graf Zeppelin) developed and perfected the guidable rigid airship, based on an early design of David Schwarz (1852-1897). Schwarz was a talented wood merchant from Zagreb (Croatia) who was obsessed with engineering and aviation. He had managed to obtain a commission from the German army to design and build the first dirigible airships. The airship of David Schwarz was first tested on October 8, 1896. A few weeks later, Schwarz died from a heart attack on January 13, 1897 (at age 44) as he was actively promoting his invention.

Ferdinand von Zeppelin had been nurturing the same idea for decades, but he could only come up with theoretical proposals which were turned down as late as 1894. Schwarz himself refused to cooperate with Zeppelin. In 1896, the conclusive test flight of the airship of David Schwarz raised the stakes and the sudden death of Schwarz became a big business opportunity... In spite of her competence and energy, his widow (Melanie Schwarz) encountered too many obstacles to carry on the work of her husband by herself. Ferdinand von Zeppelin paid Melanie Schwarz 15,000 marks for the right to use technical information about the airship (which he had already started gathering). Graf Zeppelin took it from there and started constructing his own dirigible airship prototypes in 1899.




---