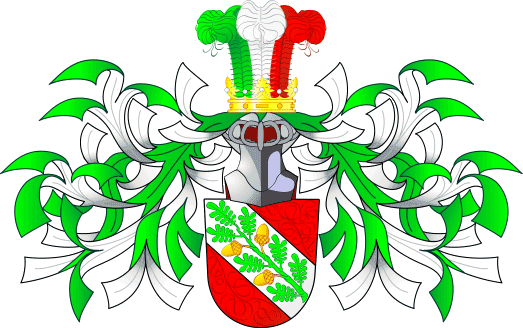 Baron Justus von Liebig (1803-1873)
German chemist and industrialist
The above is a copyrighted picture reproduced here by permission. © 2007 by Jochen Wilke.
German armorial information (below) courtesy of Bernhard Peter.
Gules, on a bend Argent an oak branch with [ 7 leaves and ] 3 acorns Proper.
Crest : Out of a coronet Or, three ostrich feathers, Vert, Argent and Gules.

De gueules, &agrave la bande d'argent, chargée d'une branche de chêne
fruitée de trois pièces et feuillée de sept pièces, le tout au naturel.
Casque couronné. [Rietstap]
Liebig

Die Familie wurde in der Person des berühmten Chemikers Dr. Justus L., durch den Grossherzog Ludwig II. von Hessen-Darmstadt in den Adelsstand erhoben durch Diplom v. 29. Decbr. 1845. In Bayern ist derselbe bei der Freiherrnklasse eingetragen 18. December 1852.
Wappen : In R. ein s. schrälinker mit einem gr. Eichzweig, daran 3 Eicheln in n. Farbe, belegter Balken. — Auf dem Helm 3 Straussenfedern gr., s., r. — Decken: gr. und s.
Liebig established an analytical technique to determine the carbon and hydrogen content of an organic substance from the carbon dioxide and water vapor it produces by combustion.

In 1830, Justus von Liebig discovered mellitic anhydride (a nontrivial oxide of carbon with aromatic properties).

In 1838, he defined acids as compounds containing an hydrogen which can be replaced by a metal.

Wikipedia | Scientific Biography | Chloroform (1832) |





---