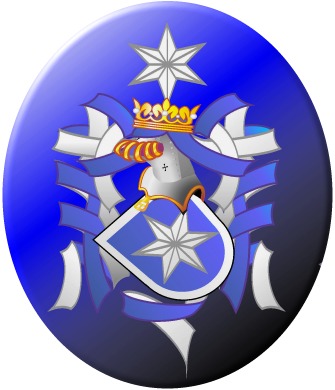 Johann Wolfgang von Goethe (1749-1832)
Azure, an estoile within a bordure Argent.
The above rendition of Goethe's coat-of-arms is from a drawing by Jochen Wilke.
The full picture [at 4 times the above resolution] was received on 2004-06-03.
[ © 2004 Jochen Wilke. This copyrighted image is reproduced here by permission. ]

In lieu of a motto, Wilke's original picture features a famous quote from the last
verses of Faust (Goethe's masterpiece, 1808 & 1832) which is reminiscent of
the allegory of Plato's Cave. Goethe himself apparently didn't sport any motto.
Alles Vergängliche ist nur ein Gleichnis.
[ Every fleeting thing is but an appearance. ]
---
Quote : Science has been seriously retarded by the study of
what is not worth knowing and of what is not knowable.




---