von Freytag-Löringhoff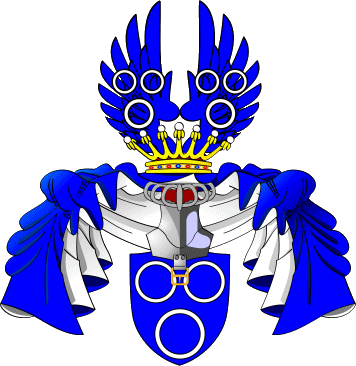 Bruno Baron von Freytag-Löringhoff (1912-1996)
German Philosopher and Epistemologist
[ The above is a copyrighted depiction reproduced here by permission: © 2008 Jochen Wilke. ]
Azure, three annulets Argent.
The heraldic source quoted by Jochen Wilke is "Baltisches Wappenbuch. Wappen sämmtlicher, den Ritterschaften von Livland, Estland, Kurland und Oesel zugehöriger Adelsgeschlechter" by Carl Arvid von Klingspor (Stockholm 1882). The relevant illustration is available online.
---
In 1957, Freytag-Löringhoff reconstructed (from original drawings) the earliest mechanical calculator, built by Wilhelm Schickard in 1623, well before the similar contraptions devised by Pascal (Pascaline, 1642) and Leibniz (1673).

Bruno von Freytag-Löringhoff was a faculty member in the philosophy department of the University of Tübingen. He thus felt a special connection with Schickard who taught Hebrew and Aramaic there, before being appointed professor of astronomy (in 1631).
In Memoriam (Modern Logic, Vol.7, #2, pp.188-189, 1997) | German Wikipedia





---