Ottokar IV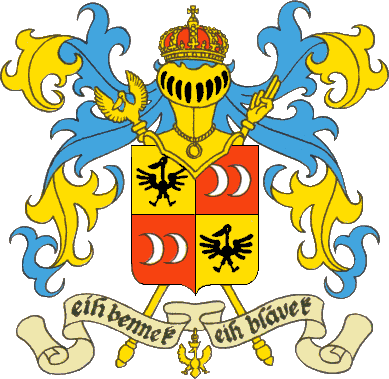 Ottokar IV, king of Syldavia (1360)
Quarterly; Or, a pelican displayed Sable;
Gules, two increscent moons Argent, fesswise.
Crest: A royal crown Or lined Gules, over a closed helmet Or,
between the Scepter of Ottokar in bend and
a scepter of justice in bend sinister,
both Or, with staffs in saltire extending below the shield.
Mantling: Or and Azure.
Motto: Eih bennek, eih blavek. (Here I am, here I stay.)
That motto appears below the shield, on a curling ribbon
bearing the insignia of the Golden Pelican Order.
A Centennial Tribute to Hergé
© 2007 by Gérard P. Michon, Ph.D.
Modern album cover
(after 1947).


Hergé was the nom de plume of the late Belgian cartoonist Georges Rémi (1907-1983) who is best known as the creator of the 24 adventures of Tintin (Tin-tin) and his dog Milou (Snowy). Hergé's lesser known series include Quick & Flupke (12 titles), Jo, Zette & Jocko (5 titles) and Popol & Virginie. The famous pseudonym comes from the French pronounciation of Rémi's initials, following the common Belgian custom of listing someone's surname first: REMI, Georges (RG = Hergé). Hergé was born in Brussels one hundred years ago, on May 22, 1907.

From Syldavia to the Moon

Hergé created the fictitious kingdom of Syldavia as the backdrop for the 8th adventure of Tintin : Le sceptre d'Ottokar (King Ottokar's Sceptre). This was originally published as a serialized comic strip in 1938 and 1939, under the title "Tintin en Syldavie" in Le Petit Vingtième (which was the weekly youth supplement, from 1928 to 1940, of the Vingtième Siècle, the newspaper from Brussels where Hergé started working in 1925).

Syldavia is presented (page 7) as a Balkan state located next to the rival country of Borduria. The intrigue is based on the identification of Syldavian royal power with Ottokar's Scepter : Should a reigning monarch lose that scepter, he would have to abdicate in shame, thereby leaving political power up for grabs... Incidentally, this story features the first appearance (page 28) of one of Hergé's best-known characters, the opera singer Bianca Castafiore, as she gives Tintin a car ride, on her way to a concert at the Kursaal of Klow, capital city of Syldavia. Royalist Syldavia and "Moustachist" Borduria would resurface in the 1956 story L'affaire Tournesol, where Bianca Castafiore performs at the opera house of Szohôd, capital city of Borduria. Finally, of course, Bianca Castafiore ("Le Rossignol Milanais") ended up with the title role in Hergé's twenty-first Tintin adventure (Les bijoux de la Castafiore, 1963) where a newsreport (page 48) mentions the twenty-first congress of the "Moustachist Party" at Szohôd...

Page 38: Jacobs & Hergé.


The status of Syldavia as a Balkan state was visually reinforced in 1947, when part of the Ottokar album was redrawn (for its first color edition) by Hergé's collaborator Edgar P. Jacobs (1904-1987) of Blake & Mortimer fame. The moniker Ottokar may conjure up the word "autocar" (which denotes a long-distance bus in French) but it's also the actual name of several historical figures, including Ottokar I, duke and king of Bohemia (1198-1230) mentioned in the encyclopedia article read by Tintin on page 7 of King Ottokar's Sceptre... The fancy Syldavian language, used by Hergé in the above motto, is simply a slavic-looking spelling of the real-life Marollien slang, as spoken in a popular quarter of Brussels (that undocumented piece of humor seems lost on most readers, including Belgian ones).

Original (1939) album cover.


The above coat-of-arms of Syldavian kings may sport an "authentic" look, but seasoned heraldists will notice several unusual things about it (besides the pelican charge which is heralded as the national symbol of the fictitous kingdom). In particular, one of the mantling's tinctures (Azure) does not occur in the shield and Heraldic crescents oriented this way are very rare. Hergé took no chances of any "coincidental resemblance" with an actual coat of arms.

Actually, the original design was just black-and-white. The above color version is from the title page of modern editions (after 1947). The cover of the 1939 black-and-white album (at left) featured that coat-of-arms with single-color mantling, dubious shield tinctures and no scepters in saltire. Pierre Assouline (1996) reports that Hergé wanted gold printing for the coat-of-arms and the scepter on that particular drawing. The editor vetoed that costly idea and suggested brown hair for Tintin, for better contrast against a plain yellow field in the shield. Hergé insisted that fair hair was part of Tintin's identity (Tintin's hair became darker with later color albums). Ultimately, the contrast issue was resolved by printing the relevant field(s) in blue ("Azure") in spite of the resulting ugly balance. Better heraldic tinctures were retained for the color editions of Ottokar, as the coat-of-arms was taken off the cover and away from misguided bickering. The Azure mantling which remains may be due to that anecdote about the 1939 cover (normally, a two-color mantling features two tinctures, a metal and another color, which are both present prominently in the shield).


Tintin Knighted (p. 59): Van Melkebeke at left (white bow tie) faces Hergé and his wife Germaine (purple dress) at right, behind Edgar P. Jacobs.
Syldavia would be the country from which Tintin would depart for the Moon, in his adventures #16 and #17: Objectif Lune (1953) and On a marché sur la Lune (1954).

---

Hergé and Jules Verne (1828-1905)

The work of Hergé reflects the popular fascination for Science and Exploration in the nineteenth century and the first part of the twentieth century (before consumerist technology kicked in). The influence of Jules Verne, the father of science fiction, was instrumental in this fascination and Hergé found inspiration in Verne's work (although Hergé always denied it).

The adventures of Tintin do feature a quintessential absent-minded professor: Tryphon Tournesol (called Cuthbert Calculus in the English translation). Tournesol first appeared in Le trésor de Rackham le rouge (Red Rackham's Treasure) as the inventor of a shark-shaped submarine. (He quickly invested the proceeds of that invention to help buy Moulinsart, the ancestral castle of Captain Haddock which would later serve as a home base for Tintin, Haddock and himself.) By Hergé's own account, the Tournesol character was modeled after Auguste Piccard (1884-1962) of the University of Brussels (pictured at left) except for the diminutive stature of Tournesol! (Piccard was a tall man.)

Such benevolent characters were typical of comic strips of that period (probably more so than later "evil scientists"). One prominent example is the Savant Cosinus character, whose very name became a French locution. Savant Cosinus was inspired by Henri Poincaré (1854-1912) who was a caricatural real-life incarnation of a true universal genius surprisingly inept at some common tasks.

Like Jules Verne before him, Hergé was criticized for scientific inaccuracies. Sometimes wrongly so. Some misguided commentators have ridiculed Hergé for showing slow-burning match fuse being used to ignite dynamite in outer space. They argued that the thing would not burn without air... Yes it would! Match fuse contains an oxidizer that allows it to burn underwater!
. Les aventures de Tintin (The Adventures of Tintin). 24 albums (1929-1986)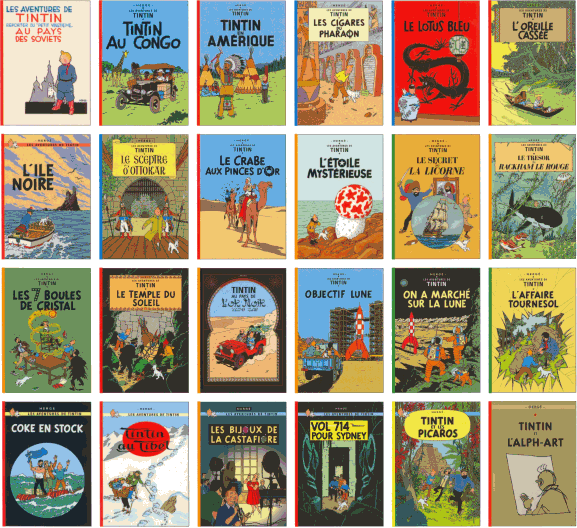 Tintin's creator Hergé turns 100 (AFP / China Daily) | Hergé One Hundred: The Father of Tintin by Paul Gravett
Happy 100th Birthday, Hergé by Heidi MacDonald | Belated Happy Birthday by J.S. Peyton
"A Boy's World" by Anthony Lane, The New Yorker
Les 100 ans d'Hergé : Exposition à Bruxelles (video) | Museum honors Tintin creator, Hergé, in Brussels (Reuters)




---