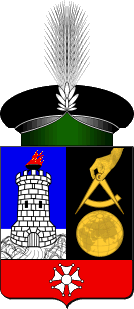 Adrien-Marie Legendre (1752-1833)
French mathematician (knighted in 1811)
The Napoleonic elements of the above picture are courtesy of Arnaud Bunel (© 1997-2007 A. Bunel)
Per pale: [1] Azure, on a rock issuant from a sea a tower embattled of five pieces, all Argent;
thereon a fanal allumé Gules; [2] Sable, a globe beneath a hand holding a compass, all Or.
LEGENDRE Adrien-Marie, né à Toulouse en 1752, mort à Auteuil, le 10 janvier 1833. Célèbre géomètre, membre de l'Institut, conseiller de l'Université impériale, professeur à l'Ecole polytechnique. Chevalier de l'Empire (25 juillet 1811).
Parti, au 1, d'azur, chargé à dextre d'une tour crénelée de cinq pièces, soutenue d'un rocher issant d'une mer, le tout d'argent, la tour sommée d'un fanal allumé de gueules; au 2, de sable, au globe terrestre d'or surmonté d'une main tenant un compas du mÍme, dans l'action de mesurer. Champagne de gueules du tiers de l'écu, au signe des chevaliers légionnaires.
Armorial de l'Empire Français by Alcide Georgel (1870)
---
All the truths of mathematics are linked to each other, and all means of discovering them are equally admissible.
---
The unflattering caricature at left seems to be the only extant portrait of Adrien-Marie Legendre.

Legendre was buried in the cemetery of Auteuil (57 rue Claude Lorrain; 5ième division, 4ième ligne, 6ième tombe) just a few yards away from the tomb of a forefather of thermodynamics: Benjamin Thompson, Count Rumford (1753-1814).

The only inscription on Legendre's grave is borne by
a restored plaque of white marble which reads:

ADRIEN MARIE LEGENDRE
OFFICIER DE LA LEGION D'HONNEUR
MEMBRE DE L'INSTITUT ET DU BUREAU DES LONGITUDES
DES SOCIETES ROYALES DE LONDRES ET D'EDIMBOURG
DE LA SOCIETE ITALIENNE, DE L'ACADEMIE AMERICAINE DE BOSTON
&C. &C.
NE LE 18 SEPTEMBRE 1752, DECEDE A PARIS LE 9 JANVIER 1833
TRANSPORTE A AUTEUIL SELON SES DERNIERES VOLONTES

CONCESSION A PERPETUITE


That plaque spans two graves with no other inscriptions on them. Although it has been widely reported that Legendre rests next to his devoted widow who survived him for 24 years (Marguerite-Claudine Couhin, 17??-1856) the groundkeeper's meticulous records (as of 2010-03-11) indicate that Legendre is buried by himself... Apparently, one of the two tombs is empty!
Wikipedia (Image by Gretaz) | Controversial Portrait | Legendre functions





---