George Everest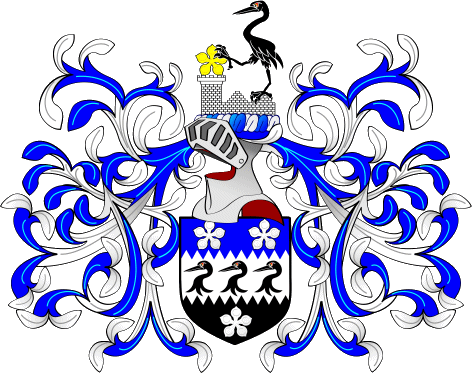 Colonel Sir George Everest (1790-1866) FRS
British Surveyor-General of India, from 1830 to 1843
The above is a copyrighted picture reproduced here by permission. © 2007 by Jochen Wilke.
Per fess Azure and Sable, on a fess dented Argent
between 3 quintefeuilles of the Same, 3 pelican heads erased Sable.
---
The great survey from the south of India to Nepal was started in 1806 by one of the predecessors of George Everest (William Lambton). It lasted six decades (from 1806 to 1866) and entailed the longest arc of meridian ever surveyed (about 2400 km) beginning at Cape Comorin (1806) and reaching as far north as the Himalayas.

The world's tallest mountain (merely known as "Peak 15" before it was called Mount Everest) was only surveyed in 1852 by Andrew Waugh (the successor of George Everest) who would be instrumental in having the peak named after George Everest, in 1865.

George Everest had started working on the Trigonometrical Survey of India in 1818. He inherited the leadership of the ailing project in 1923, put it back on tracks and was named Surveyor General in 1830. He retired in 1843. Everest became a Knight of the British Realm in 1861. His niece, Mary Everest, married the famous logician George Boole.

The above arms were granted posthumously, in 1990, on the occasion of the 200th anniversary of Sir George Everest's, for the formal presentation of the Survey of India to the Royal Institution of Chartered Surveyors.
| Wikipedia | Survey of India | Grant of arms (1990)




---