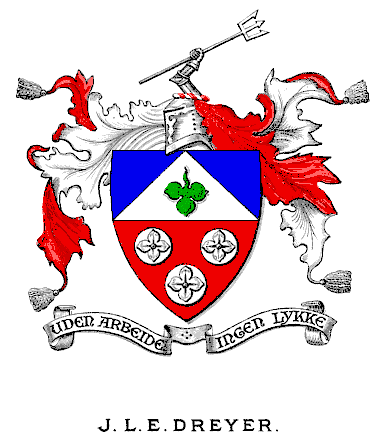 Johann Ludwig Emil Dreyer (1852-1926)
The above is from a bookplate pasted on the inside front cover of a copy of
Familiar Lectures on Scientific Subjects by J.F.W. Herschel (1867)
recently aquired by the Irish amateur astronomer R. Nigel Mawhinney,
who kindly presented us with a scanned picture on 2004-05-27.
Per fess Argent and Gules, chaperonné Azure, in chief a trefoil slipped and inverted
Vert and in base three roundels [each charged with a quatrefoil] Argent.
The Danish motto "Uden arbeide, ingen lykke" means:
Without work, no happiness.
---
J.L.E. Dreyer was the youngest of the three sons of Johann Christopher Friedrich "Frits" Dreyer (1814-1898) a Danish general who served as Minister of War in 1864. The above arms were apparently first born by Frits Dreyer's paternal grandfather: Dines Christiaan Dreyer (1752-1801) who was a regimental quartermaster in the Danish army.

J.L.E. Dreyer himself is mostly remembered as the astronomer who compiled the first version of the NGC (New General Catalog). He also wrote the standard biography of his countryman and fellow astronomer Tycho Brahe (1546-1601). He became a British subject in 1885.

We thank Ms. Ann E. Lyon (University of Wales Swansea) for bringing the arms of J.L.E. Dreyer to our attention. She posted the following words on the Scottish Heraldry Forum :

[ 2004-02-02 ] John Louis Emil Dreyer [né Johann Ludwig Emil Dreyer] was a Danish astronomer from a very distinguished family (his father was Commander in Chief of the Danish Army in the War of 1864) who went to Ireland around 1870 to work for the Earl of Rosse. He spawned a famous Royal Navy family; his second son was Jellicoe's flag captain at Jutland and became a full Admiral, a grandson was also a full Admiral, and no fewer than seven of his descendants fought at sea in WW2. One of his grandsons, who died last year, was a very great friend of mine, which is why I know a bit about him.

[ 2004-02-20 ] The Dreyer arms I have seen illustrated are those of [J.L.E. Dreyer's] second son, Admiral Sir Frederic Dreyer, inventor of the Dreyer Table, which was a central element in the Royal Navy gunnery control system from the early years of the 20th century [see Arthur Marder's monumental History of the Royal Navy in the 20th Century]. These arms have the roundels but not the [outlined] quatrefoils.

According to Hans Dreyer (b. 1936, see below) the quatrefoils might be improperly blazoned as a surcharge on the roundels (which, incidentally, would constitute a rare violation of the heraldic rule that prohibits a charge or surcharge of the same tincture as its local background). Several hypotheses come to mind regarding what each of the three Dreyer roundels was originally intended to represent:

A 3-Pfennig coin minted in Holstein (a German-speaking principality ruled by the Danish king until 1866). Because of its value, that coin was called a Dreiling and the round charge would thus simply be another canting element in the original Dreyer arms (as discussed below). However, preliminary research doesn't reveal any Danish or German coin from the relevant period with a pattern resembling what's found on the Dreyer roundel.
An ornamental Danish military button. Three such buttons might indicate the rank of a general...

According to the above reliable testimony from Ann E. Lyon, the second son of J.L.E. Dryer dropped the quatrefoils from his father's arms for his own use (and, possibly, that of his descendants). Arguably, the plain roundels may thus characterize the arms of the British branch of the Dreyer family (descended from J.L.E. Dreyer) although we only have the above evidence to support this guess.

Help from our readers: For more than 6 years, this footnote contained an interrogation about a possible connection between the astronomer John Louis Emil Dreyer (1852-1926) and the Danish film director Carl Theodor Dreyer (1889-1968) or even an admittedly unlikely connection with the German writer Max Dreyer (1862-1946). Neither is correct, according to nearly simultaneous private communications received (respectively on 2011-09-27 and 2011-10-02) from Peter Dreyer (born on 1965-01-30 to Joergen Vilhem Dreyer b. 1934-11-12) and his uncle Hans Dreyer (born 1936-02-15) who credits his English cousin Andrew Leggat (from Kent) for his own awareness of this page. Hans is the great grandson of Frederik Dreyer (1843-06-22, 1915-11-27) a colonel in the Danish army who was a brother of the astronomer. He states that: [edited summary]

This coat-of-arms has been used since the 18th century by officers belonging to my family. Our family tree has been traced back to 1630. The first Dreyer on record was the turner Hans Simmensen who went by the name of Hans Simmensen Drejer (in Danish, a turner is a drejer). His descendants altered the spelling to Dreyer. Before 1800, the Danish military language was influenced by German. In German, drei is the numeral 3 which underlies the design of the coat-of-arms (tri-angles, tre-foil, tri-dent, three roundels, etc.) and serves as sort of canting mnemonic linking these arms to the Dreyers.

Further comments are welcome.

The Danish filmmaker Carl Theodor Dreyer (1889-1968) was actually given up for adoption to an unrelated Dreyer family by his biological parents (a Swedish maid named Nilsson and an unidentified Danish landowner).





---