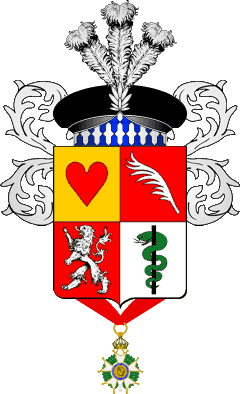 Jean-Nicolas Corvisart des Marets (1755-1821)
The above picture is reproduced here by permission,
from the superb site Héraldique européenne.
Copyright © 1997-2006 by Arnaud Bunel. All rights reserved.
Écartelé: au 1, d'or, à un coeur de gueules;
au 2, de gueules, à une palme d'argent;
au 3, de gueules, au lion d'argent;
au 4, d'or, à un bâton d'Esculape, la verge de sable, le serpent de sinople.
Sur le tout les armes de Corvisart-Montmarin.
[ Supporters: Two eagles. Motto: Franc et droit. ]
Corvisart-Montmarin :
D'or, au chevron d'azur, acc. en chef de deux croissants du même et en pointe
d'une merlette de sable, surmontant deux épées de gueules, passées en sautoir.
[ Supporters: Two lions Or. ]
---

Rue Corvisart, Paris XIII (Métro Corvisart) | French Stamp (Red Cross, 1964)
Heart and Great Vessels (1812) Special Collections, Marshall University.

---

Jean-Nicolas Corvisart (1755-1821) was the personal physician of Emperor Napoléon I. He is the founder of French clinical medidicine. In 1806, he published an important treatise on cardiology: Essai sur les maladies et les lÚsions organiques du coeur et des gros vaisseaux (translated in 1812 by Jacob Gates).
Medicine is a conjectural art.
Jean Nicolas Corvisart




---