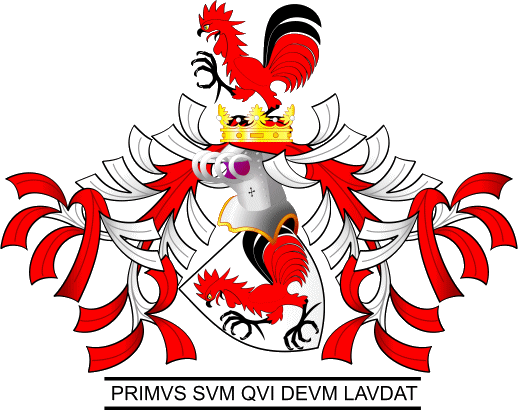 Friedrich II Graf von Hahn (1742-1805)
German Astronomer
The above is a copyrighted picture reproduced here by permission. © 2007 by Jochen Wilke.
Argent, a cock Gules armed Sable, dexter leg raised, two tail feathers of the Last.
Motto : Primus sum, qui deum laudat (I am the first to praise God).
Im silbernen Schild und auf dem Helm ein mit dem rechten Fuss ausschreitender,
rechts gekehrter, roter Hahn, dessen Schnabel, Füsse und
beide ersten, gekrümmten Schwanzfedern schwarz sind.
Darunter der Wahlspruch: "Primus sum, qui deum laudat".
---
In 1793, Friedrich von Hahn started to build his own observatory in Mecklenburg featuring large mirrors made by William Herschel (1738-1822).

In 1800, Friedrich von Hahn observed the central star of the so-called Ring Nebula (M57 = NGC 6720) in the constellation Lyra.




---