Margaret Thatcher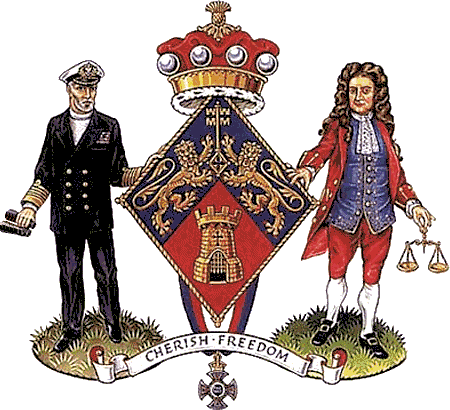 Margaret Thatcher (1925-2013). British Prime Minister (1979-1990)
FRS in 1983. Order of Merit in 1990. Baroness in 1992. Lady of the Garter in 1995.
Per chevron, Azure and Gules. A double key in chief between
two lions combattant; a tower with portcullis in base, all Or.
Crest: . A Baroness coronet.
Motto: . Cherish Freefom
Supporters: . Dexter: An admiral of the British Navy.
Sinister: Sir Isaac Newton.
[ Designed by Sir Colin Cole, former Garter King of Arms, in 1992. ]
Margaret Thatcher (née Roberts) passed away on April 8, 2013 in London's Ritz Hotel, at the age of 87 (death certificate).

On her coat-of-arms, Isaac Newton is a reminder of Lady Thatcher's love for science and her background as a research chemist
(before she became a barrister).

On the day they merged (24 October 1979) The Chemical Society and The Royal Institute of Chemistry
made her an Honorary Fellow of the two joined institutions. In 1983, she became a Fellow of the Royal Society (FRS).
The fact that she received those scientific honors as a sitting prime minister stirred controversy among the scientific community.

She was Secretary of State for Education and Science from 1970 to 1974 (in the government of Edward Heath).
Margaret Thatcher served as British Prime Minister, from 1979 to 1990. She was known far and wide as the Iron Lady.
In 1992, she was created Baroness Thatcher of Kesteven (County of Lincolnshire) and received the above coat-of-arms.
Décès de la Dame de Fer (French) | Funeral (New-York Times)




---