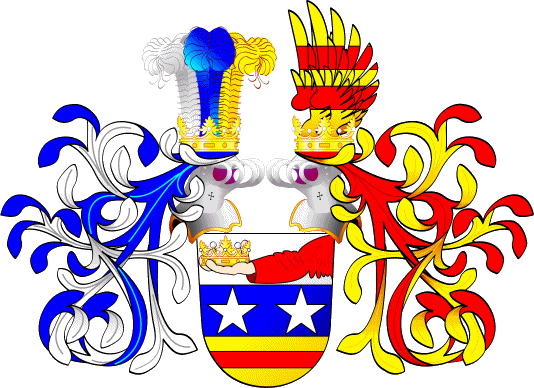 Luigi Negrelli (1799-1858)
Alois Negrelli, Ritter von Moldelbe
Austrian Engineer (Knighted in 1850)
The above is a copyrighted picture reproduced here by permission. © 2007 by Jochen Wilke.
Tierced in fess. [1] Argent, a hand Proper sleeved Gules holding a royal crown Or.
[2] Azure, two mullets Argent. [3] Or, a bar Gules.
---
Luigi Negrelli was born on January 23, 1799 in Fiera di Primiero, a village of what's now the Autonomous Province of Trento (Trentino). At the time, Trentino had been enjoying a certain autonomy for eight centuries (since 1027) under the rule of the Bishopric of Trent within the Holy Roman Empire. This was shortly before the official creation (in 1804) of what became known as the Austrian Empire (Kaiserreich Österreich).

Negrelli was educated in the Italian towns of Feltre (which became part of the Austrian Empire after the Congress of Vienna in 1814) and Padua (which became part of the Kingdom of Lombardy-Venetia in 1814).

He actually started his career in Tyrol (Austria) but moved to Switzerland in 1832. There, Negrelli built the first Swiss railroad (from Zurich to Baden) and also the Munster Bridge in Zurich (a famous stone bridge built over a wooden frame due to Ferdinand Stadler).

Negrelli returned to Austria in 1840 and worked as inspector of the Austrian railways until 1857.

In 1850, Negrelli was knighted by the young Emperor of Austria, Franz Joseph I On that occasion, Negrelli caused quite a stir when he decided to emphasize his Bohemeian heritage by choosing the title of nobility "von Moldelbe" (which combines the names of the Moldau and Elbe rivers).

In the course of his duties as General Inspector of the Austrian Railways, Negrelli was entrusted with the design of plans for the Suez Canal He represented the Habsburgs in the international commission which studied the feasibility of cutting such a canal through the isthmus of Suez. He wrote a whole book on the topic, entitled Transportation in Egypt (Die gegenwärtigen Transport und Kommunikationsmittel Egyptens, 1856). The Frenchman Ferdinand de Lesseps ended up overseeing the work, which started on April 25, 1859 (the Suez Canal opened officially 10 years later, on November 27, 1869).

In 1857, Negrelli went back to Veneto-Lombardy, to oversee public buildings, railways, telegraph lines and fluvial traffic on the Po river.

He died in Vienna on October 1, 1858.
Structurae | Wikipedia | German Wikipedia




---